Jump to recipe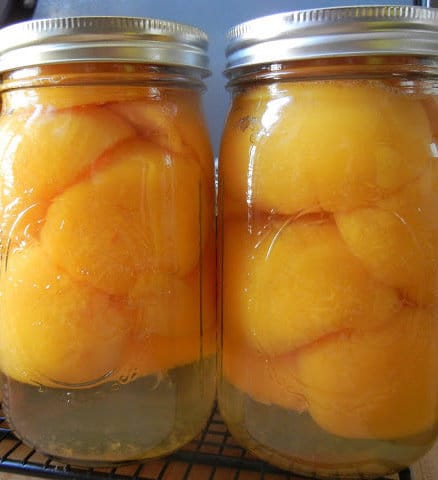 Canning Peaches in Spirited Syrup

Ingredients
6 cups chopped pitted peeled peaches
8 1/2 cups water
3 3/4 cups sugar
Instructions
Combine water and sugar in a large stockpot and bring to a boil.
Peel, pit, and halve peaches, placing the peaches in the prepared syrup as you work. Bring peaches in syrup back to a boil. Pack peaches into quart jars, cavity side down. Add 2 tbsp bourbon, whiskey or rum to quart jars.
Cover peaches with syrup, leaving 1/2″ headspace. Remove air bubbles, remeasure headspace and adjust as needed. Apply two part canning lids and tighten until fingertip tight. Process in a hot water bath for 25 minutes.
Be sure to visit Blueberry Files, by clicking here, to get even more recipes for preserving peaches.
Recipe and Photo: Blueberry Files / CC BY