Jump to recipe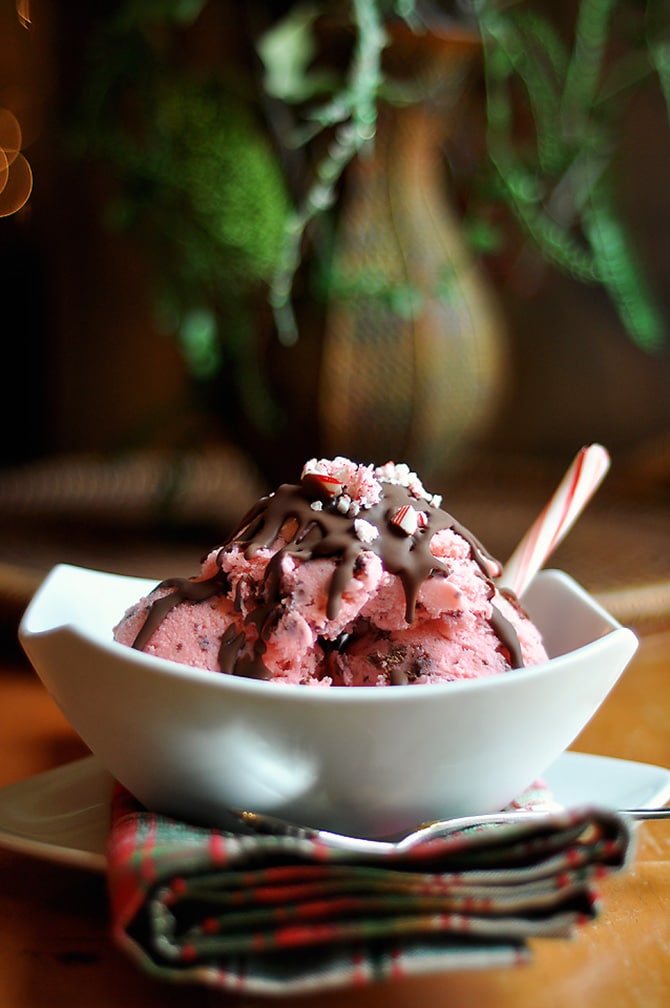 Ingredients
4 cups whole milk
10 large egg yolks
1 3/4 cups sugar
1/4 teaspoon salt
1 cup chilled heavy whipping cream
1 teaspoon peppermint extract
2-3 drops red food coloring, if desired
1 cup very finely crushed candy canes or hard peppermint candy, divided
1 1/2 cups milk chocolate chips
1/2 cup coconut oil
Instructions
Place milk in a medium saucepan. Bring to about 175 degrees (just before scalding), whisking often. Meanwhile, whisk yolks, sugar, and salt in a large bowl until well blended, about 1 minute.
Gradually whisk about half the hot milk into yolk mixture. Return to saucepan; stir over medium-low heat until custard thickens, about 5 minutes. Strain through a fine wire mesh into a medium bowl. Stir in heavy cream, peppermint extract, and red food coloring, if desired. Chill custard until very cold, at least 4 hours or overnight.
Stir chocolate and coconut oil in a small saucepan over low heat until melted and smooth; remove from heat and let cool to room temperature. Do not refrigerate.
Freeze custard in a 2 1/2 quart or larger ice cream maker according to manufacturer's instructions. During last 5 minutes of freezing, add all but 3 tablespoons of the crushed candy canes to the gelato. When that is mixed, slowly drizzle half of the chocolate mixture into the gelato. (The chocolate will immediately harden and break into tiny chips as gelato continues to churn.)
Serve the gelato in soft form straight from the ice cream maker, or place in a large freezer safe container and freeze until desired firmness. Top each serving of gelato with a drizzle of the chocolate, followed by a sprinkling of the reserved crushed candy canes. (I like to transfer the chocolate mixture to a squeeze bottle for easier drizzling.) About 2 1/4 quarts.
Recipe and Photo: Lorie's Mississippi Kitchen / CC BY