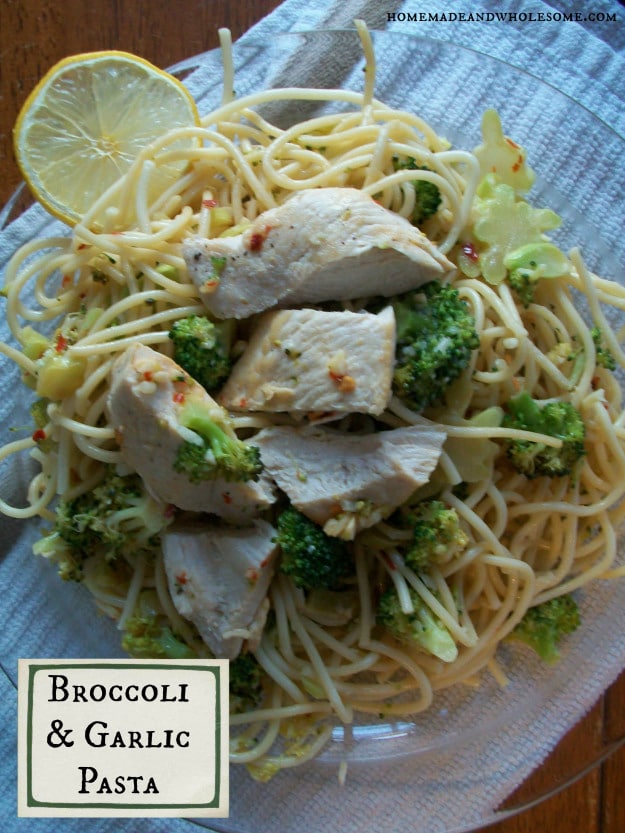 Recipe: Broccoli and Garlic Pasta
Ingredients
Large bunch of broccoli, cut into florets and the stalks sliced
3 cloves garlic, chopped
Half pound of spaghetti (half a box)
Pinch of red pepper flakes
2 Tbs. olive oil
Juice of a lemon
2 Tbs. parmesan cheese
Instructions
Place the broccoli florets into a large pot of boiling water. Cook for 3 to 4 minutes. Remove florets from water with a slotted spoon and place in a colander. Run cold water over broccoli. This will stop the cooking process. Remove the florets and pat dry.
Place the spaghetti into the same pot of boiling water. Cook until al dente, according to package.
Sauté the garlic, sliced broccoli stalks and red pepper flakes in olive oil. Cook on medium low about 7 minutes. Add broccoli florets and stir to coat with olive oil.
Drain the pasta and add to the broccoli mixture. Stir to coat with the olive oil. Increase heat to medium-high and season with salt and pepper. Pour lemon juice and mix to combine. Sprinkle with parmesan cheese.
Recipe and Photo: Homemade and Wholesome / CC BY