Jump to recipe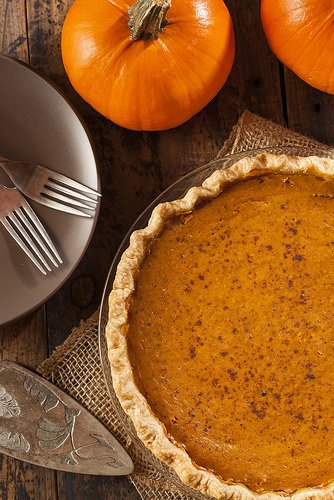 Bourbon Pumpkin Pie

Ingredients
Pastry dough
1 (15–oz) can canned pumpkin (about 2 cups)
1 cup heavy cream
1/4 cup whole milk
2 tbsp Bourbon
2 large eggs
3/4 cup packed light brown sugar
1 tsp ground cinnamon
½ tsp ground cardamom
½ tsp ground ginger
½ tsp nutmeg
Pinch of ground cloves
1/4 tsp salt
Instructions
Make pastry dough as directed. Roll out dough into a 14-inch round on a lightly floured surface and into a 9-inch pie plate. Crimp edge decoratively and prick bottom all over. Chill 30 minutes.
Preheat oven to 375°F. Line shell with foil and fill with pie weights. Bake in middle of oven 20 minutes. Remove weights and foil and bake shell until pale golden, 6 to 10 minutes more. Cool.
Whisk together pumpkin, cream, milk, eggs, brown sugar, spices and Rave Review! Culinary Bourbon. Pour into shell.
Reduce oven temp to 350°F. Bake pie for 45 to 50 minutes, or until filling is set but center still jiggles slightly. (Filling will continue to set as pie cools.) Transfer to rack and cool completely.
Recipe and Photo:Foodista / CC BY