Jump to recipe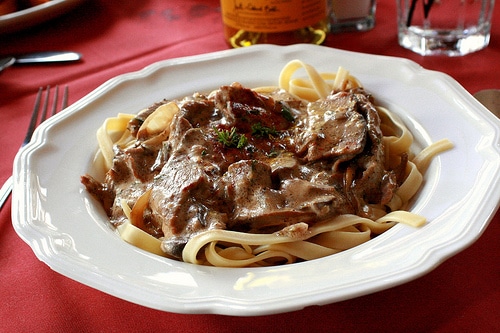 Best Slow Cooker Beef Stroganoff

Ingredients
1 pound beef, any cut such as flank steak, sirloin, round steak
1/2 medium onion, sliced
2 cloves garlic, minced
2 stalks celery, chopped
1 pint mushrooms, sliced
1 can cream of mushroom soup
1 tablespoon soy sauce
2 tablespoons sherry or marsala wine
1 tablespoon Italian seasoning (a blend of basil, thyme, 1/2 teaspoon pepper
1/4 teaspoon salt
1 bay leaf
1/3 cup sour cream
4 cups egg noodles, cooked
Instructions
Place onion, garlic, celery, and mushrooms in the bottom of the slow cooker pot.
Slice the beef into thick strips.
Mix cream of mushroom soup with wine, soy sauce, Italian seasoning, salt, pepper, and bay leaf.
Pour over the beef and vegetables. Stir to combine all ingredients.
Set the slow cooker on low and cook for about 6 hours. The beef should be easily pierced with a fork (it will even fall apart, it will be so tender).
Stir in the sour cream. Let the mixture cool for at least 10 minutes to thicken.
Serve over egg noodles.
Photo: sergeant killjoy / CC BY-ND