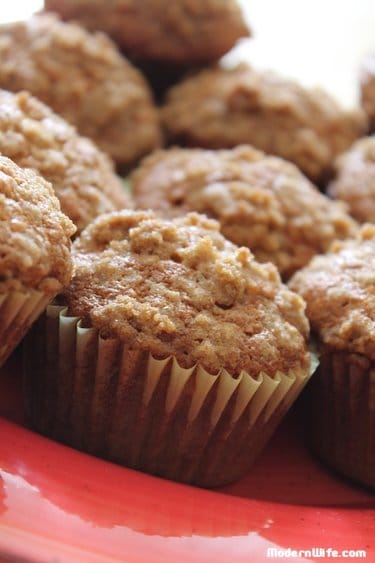 Ingredients
Ingredients for Muffins:

1/3 cup butter, softened
3/4 cup organic sugar
3 bananas
1 egg
1 1/2 cups all-purpose flour
1 teaspoon baking soda
1 teaspoon baking powder
1/2 teaspoon salt
Ingredients for Crumb Topping:

1/3 cup packed brown sugar
2 tablespoons all-purpose flour
1/8 teaspoon ground cinnamon
1 tablespoon butter
---
Instructions
Preheat oven to 375 degrees Fahrenheit. Butter the muffin pan or put muffin paper liners into muffin cups.
Cream softened butter and organic sugar together. Beat in the egg until smooth. Add mashed bananas and mix well together.
Add the dry ingredients: flour, baking soda, baking powder and salt. Mix all together until smooth. Spoon batter into prepared muffin cups.
In a small bowl, mix together brown sugar, flour and cinnamon. Cut in 1 tablespoon butter until mixture resembles crumbs. Sprinkle crumb topping over muffins.
Bake for 18 to 20 minutes or until a toothpick inserted into the center of a muffin comes out clean.
https://stlcooks.com/banana-crumb-muffins/