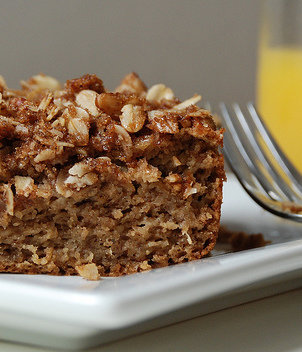 Banana Cinnamon Crunch Cake
Ingredients
For Cake:

1 cup oat flour
1 cup whole wheat flour or white whole wheat flour
1 tsp baking soda
¼ tsp salt
1 tsp cinnamon
1/3 cup unsweetened applesauce
¼ cup canola oil
2/3 cup packed light or dark brown sugar
2 eggs
1 cup ripe bananas, mashed (2 large or 3 medium bananas)
½ cup non-fat or 2% Greek Yogurt
1 tsp vanilla extract

For Crunch Topping:

¾ cup old-fashioned rolled oats
1/3 cup packed light brown sugar
½ tsp ground cinnamon
¼ tsp salt
2 Tbsp unsalted butter, melted
¼ cup pecans, chopped
Instructions
Preheat oven to 350. Spray a 8-inch square pan with cooking spray.

To make cake batter:

Whisk together the flours, baking soda, salt and cinnamon in a medium bowl.
In a large mixing bowl, mix together applesauce, oil and brown sugar. Beat in the eggs, one at a time, stopping to scrape down the sides and bottom of the bowl between additions. Mix in half the dry ingredients until moistened, then mix in the bananas, yogurt and vanilla. Scrape down the sides and bottom of the bowl, then add the remaining dry ingredients.
Transfer the batter to the prepared pan.

To make topping:

Combine the oats, brown sugar, cinnamon and salt in a small mixing bowl until well blended. Stir in the melted butter until the moisture forms large crumbs; stir in the chopped nuts. Sprinkle the topping over the batter in the pan.
Bake until the edges pull away from the pan and a cake tester inserted in the center comes out clean, 40 to 45 minutes. Remove the cake from the oven and place on a rack to cool for 20 minutes before serving warm.
https://stlcooks.com/banana-cinnamon-crunch-cake/
Recipe and Photo: Multiply Delicious / CC BY