Jump to recipe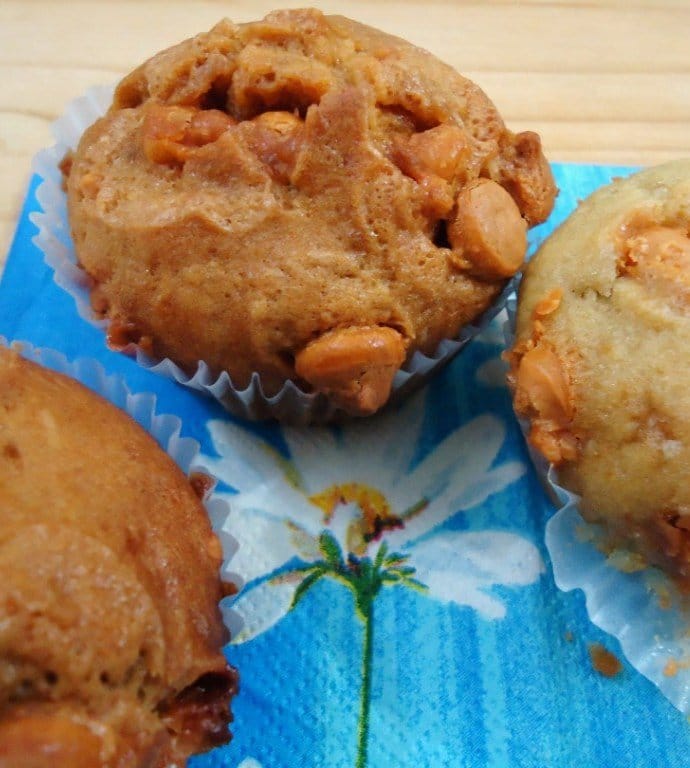 Banana Butterscotch Muffins

Ingredients
3 very ripe bananas
125ml oil – vegetable/sunflower – use an oil which doesn't have any of its own flavor
2 eggs
220gms plain flour
80gms powdered sugar
½ teaspoon baking soda
1 teaspoon baking powder
1 tsp vanilla essence or extract
½ to ¾ cup butterscotch morsels
Instructions
Preheat the oven to 200°C. Line your muffin tray with the cupcake cases.
Peel and mash the bananas and set aside for a moment.
In a jug or a clean bowl measure and pour the oil. Then slowly beat in the eggs, until you get a uniform liquid.
In another larger bowl, put the flour, sugar, soda and baking powder. Pour the mix in the beaten-egg-and-oil mixture, followed by the mashed bananas and vanilla.
To this batter, add the butterscotch morsels – and fold them in gently. Using an ice cream scoop or a wooden spoon place equal quantities in the cupcake cases.
Bake in the oven for 20 minutes. – till they are golden brown on top and a skewer comes out clean.
Recipe and Photo: Chocolate Coffee Cream / CC BY-ND