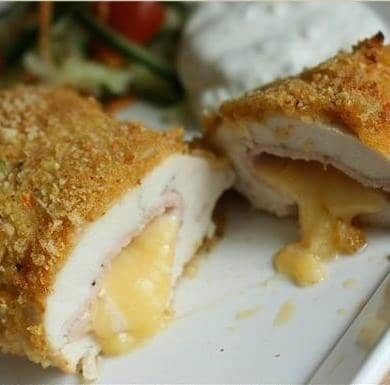 Baked Chicken Cordon Bleu
Ingredients
50 milliliters (about 3 1/4 tablespoons) Chicken broth
1 tablespoon Butter, melted
1 clove Garlic, minced
1/2 cup Breadcrumbs
1 tablespoon Parmigiano-Reggiano cheese, grated
1 teaspoon Paprika
2 boneless chicken breasts halves, skin removed
1/4 teaspoon Salt
1/4 teaspoon Freshly ground black pepper
1/4 teaspoon Dried oregano
2 slices Ham
Instructions
Preheat the oven to 180C/350F. Combine the chicken broth, melted butter and minced garlic in a bowl. Set aside. In another bowl, mix together the breadcrumbs, Parmigiano-Reggiano, and paprika.
Place each chicken breast between 2 sheets of heavy-duty plastic wrap, and pound each to 1/4-inch thickness using a meat mallet or rolling pin. Sprinkle both sides of chicken with salt, pepper and oregano. Place a cheese and ham slice on each breast within 1/2 inch of the edges. Tuck in the sides of the breast and roll up tight like a jellyroll and secure with toothpicks.
Dip each roll in chicken broth mixture and dredge in breadcrumb mixture. Place rolls, seam side down, in a baking dish coated with butter. Pour the remaining broth mixture over chicken. Bake in the preheated oven for 28 minutes or until golden crisp.
https://stlcooks.com/baked-chicken-cordon-bleu/
Recipe and Photo: Foodista / CC BY