Jump to recipe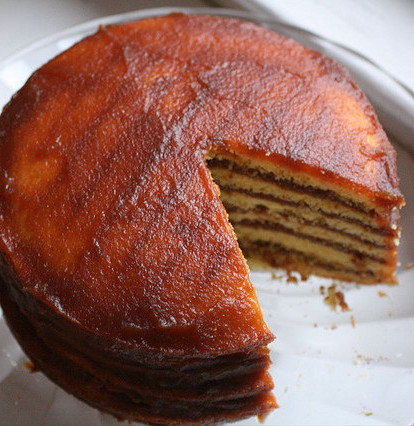 Apple Stack Cake

Ingredients
1 box yellow cake mix (which probably will call for a couple eggs and some oil)
For the apple spread (You may also substitute apple butter):
4 cups cooked, dried apples
1 tsp powdered cinnamon
1 tsp ground cloves
1 tsp allspice
1 tsp sugar
Instructions
Bake the cake according to its directions. Split the batter into a couple cake pans — or more, based on how many layers you want.
(If using apple butter, skip this step.)On the stove, cook the apples in 2 cups of water until they are soft. Using a food processor or by hand, mash to the consistency of apple butter. Add cinnamon, cloves, allspice and sugar. Mix well, adding water if necessary to make the apple butter spreadable. Let cool completely.
Once the cake layers have cooled completely, slice in half lengthwise to get thin layers of cake. Spread the apple mixture between each layer and on the top and sides. If time allows, let the cake sit for 24 hours — slice and serve.
Recipe and Photo Courtesy of TheBittenWord.com / CC BY