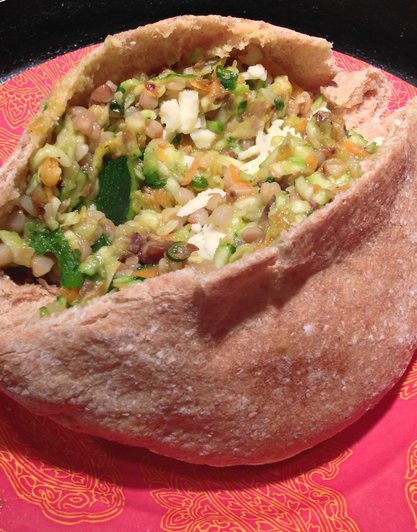 Zucchini Salad Pita Pockets
Ingredients
1 cup of instant barley
2 zucchini
2 cloves garlic
2 carrots
½ cup Italian parsley
¼ red onion
1 cup chick peas – drained
½ tsp. salt
½ tsp. black pepper
½ tsp. turmeric
½ tsp. curry
Juice of ½ lemon
¼ cup olive oil
8 oz. cheddar cheese – shredded
Whole wheat pita pockets
Instructions
Prepare the barley as directed; drain and cool.
Shred the zucchini, carrots, onion, chick peas and the parsley, using the shredding blade of the food processor.
Place in a bowl and season. Add the barley and toss.
Combine the lemon juice and olive oil and add to the salad and toss.
Fill the pita with the shredded cheese and add the salad. Top with a little more cheese, if desired.
https://stlcooks.com/zucchini-salad-pita-pockets/
Recipe and Photo: Foodista / CC BY