Jump to recipe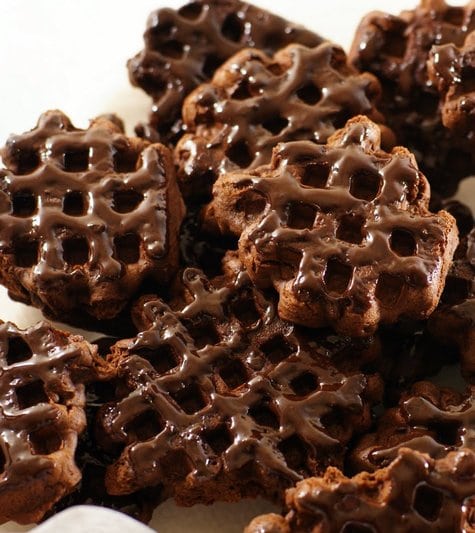 Ingredients
4 ounces unsweetened chocolate, coarsely chopped
2 sticks butter, softened
4 eggs
1 1/2 cups sugar
1/2 teaspoon salt
1 1/2 teaspoons vanilla
1 teaspoon cinnamon
1 1/2 cups flour
1/2 cup cocoa powder
Glaze:
2 tablespoons butter
1/4 cup confectioners' sugar
2 tablespoons cocoa powder
1 1/2 tablespoons milk
Instructions
In a bowl, melt butter and chocolate together in the microwave in 30 second bursts until both are melted. (The butter will melt first) Stir and check chocolate after each burst.
In a large mixing bowl, beat the melted butter and chocolate with the sugar until well blended. Add the eggs, salt, vanilla, cinnamon and cocoa powder and mix thoroughly. Add the flour and mix well.
Preheat a waffle iron. Lightly spray with cooking spray. I found that I didn't have to have to add any more oil to the iron.
If your waffle iron has a pattern of 4 waffles place a large tablespoon of batter in the middle of each square. My iron has a pattern of 2 waffles so I placed a tablespoon at the top and bottom of one square and repeated with the other.
Close cover and cook for approximately 1 1/2 – 2 minutes until they are done. Remove to wire rack and let cool completely.
When they have cooled, mix together the cocoa powder, confectioner's sugar, butter, and milk in a saucepan and stir and cook over low heat until melted and blended. Pour glaze onto a plate, and dip each of the waffle cookies gently into the glaze, just trying to cover on the very tops. Sprinkle with confectioner's sugar, serve and enjoy.
Recipe and Photo: The Merlin Menu / CC BY