Jump to recipe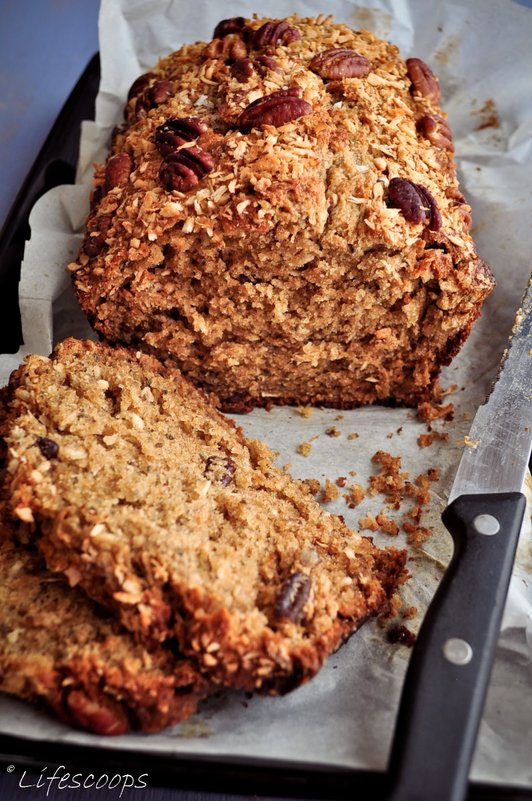 Toasted Coconut Banana Bread with Pecans

Ingredients
1/2 cup – Oil
1 cup – Brown sugar,packed
2 – Eggs
3 – Ripe bananas (1½ cups mashed)
½ cup – Buttermilk
1 teaspoon – vanilla extract
1 cup – Whole wheat flour, sifted
1 cup – All purpose flour, sifted
1 teaspoon – Baking soda
1 teaspoon – Baking powder
½ teaspoon – Salt
3/4 cup – Coconut(desiccated or fresh)
1/4 cup – Pecans or walnuts, chopped
1 tablespoon – Chia seeds (optional)
Topping
2 Tablespoons – Coconut(desiccated or fresh)
1/4 Cup – Whole Pecans
Instructions
Preheat the oven to 350F
Take a heavy bottomed pan toast the coconut until they turn golden brown. Set aside.
Sift the flour, baking powder, baking soda and salt and set aside
In the stand mixer bowl add brown sugar, eggs and oil and beat on medium speed until all ingredients have been incorporated.
Add buttermilk, vanilla and mashed bananas and beat again.
Now add the dry ingredients to the wet little by little. Make sure that you run the mixer on slow speed else you will have flour all over!
Mix in the toasted coconut, pecans and chia seeds.
Transfer the batter into a greased loaf pan.
Top the loaf with coconut and pecans
Bake for 50-60 minutes or until the inserted toothpick comes out clean.
If you are allergic to coconut, skip this ingredients out and follow rest of the recipe
You can opt out wheat flour and make this loaf with all purpose flour
You can add raisins, cranberries or chocolate chips
This loaf is mildly sweet. You can increase the brown sugar to 1 1/4 cup to make a sweeter bread
Recipe and Photo: Lifescoops / CC BY