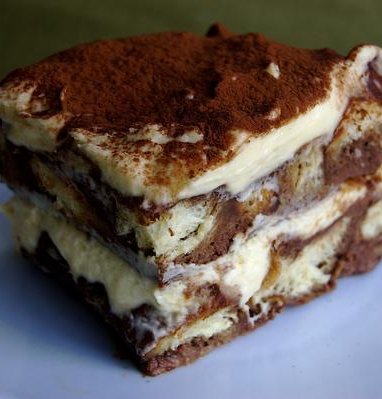 Ingredients
For the Bread Pudding:

12 ounces bread (brioche, challah or white), preferably stale
2 cups whole milk
1 1/4 cups heavy cream
1/2 cup strong brewed coffee, cooled
6 tablespoons dark rum
3 large eggs
4 large egg yolks
1/2 cup sugar
6 ounces bittersweet chocolate, finely chopped
For the Tiramisu Cream:

4 tablespoons dark rum
6 large egg yolks
2/3 cup sugar
¼ teaspoon salt
1 pound Mascarpone cheese
¾ cup cold heavy cream
---
Instructions
GETTING READY:

Have a 9-x-13 inch baking pan at hand (a Pyrex pan is perfect here), as well as a roasting pan big enough to hold the baking pan and how water. Line the roasting pan with a double thickness of paper towels
Cut the bread into 1-inch cubes. It the bread is stale, put it and the raisins or cherries, if you are using them, into the baking pan. If it is not stale, spread it out on a a baking sheet lined with parchment or a silicone mat and bake in a 350-degree-F oven to "stale" it for 10 minutes, then toss into the pan (with the fruit).
Bring the milk and cream just to a boil.
Fill a teakettle with water and put it on to boil; when the water boils, turn off the heat. Meanwhile, whisk the eggs, yolks, rum, brewed coffee and sugar together in a bow. Still whisking, slowly drizzle in about one quarter of the hot milk mixture–this will temper, or warm, the eggs so they don't curdle. Whisking all the while slowly pour in the rest of the hot milk. Add the chocolate and whisk it in gently until it is melted and the custard is smooth. Rap the bowl against the counter to pop bubbles that might have formed, then pour the custard over the bread and press the bread gently with the back of a spoon
GETTING READY TO BAKE:

Center a rack in the oven and preheat the oven to 350 degrees. F.
Slide the pan setup into the oven and very carefully pour enough how water into the roasting pan to come halfway up the sides of the pudding pan. Bake for 35 to 45 minutes, or until the pudding is uniformly puffed, the top is dull and dry and a thin knife inserted deep into the center comes out clean. Transfer the baking pan to a rack and cool to room temperature.
In a heat proof bowl set over simmering water, beat yolks at low speed with a hand mixer until just combined. Add sugar and salt and beat at medium-hgih speed until pale yellow, 1 ½ to 2 minutes, scraping down bowl with a rubber spatula once or twice. Add remaining 4 tablespoons rum and beat at medium speed until just combined, 20 to 30 seconds; scrape bowl. Add mascarpone and beat at medium speed until no lumps remain, 30 to 45 seconds, scraping down bowl once or twice.
In a separate bowl, beat cream at medium speed until frothy, 1 to 1 ½ minutes. Increase speed to high and contine to beat until cream holds stiff peaks, 1 to 1 ½ minutes longer. Using rubber spatula, fold one-third of whipped cream into mascarpone mixture to lighten, then gently fold in remaining whipped cream until no white streaks remain.
To Assemble

Refrigerate the bread pudding for 1 hour to let it firm up. Cut it in half and place it on a plate. Top with 1/2tiramisu cream and sift 1 tbsp cocoa powder over the top. At this point, you can either put it back in the fridge to let the cream firm up a bit (an hour would be fine) and then top it with the other half of the bread pudding, or just immediately top it with the other half (but the cream will spill out of the sides a bit!). Top the second half with the remaining tiramisu cream and, again, add 1 tbsp sifted cocoa powder. You can also top it with shaved chocolate.
https://stlcooks.com/tiramisu-bread-pudding/