Jump to recipe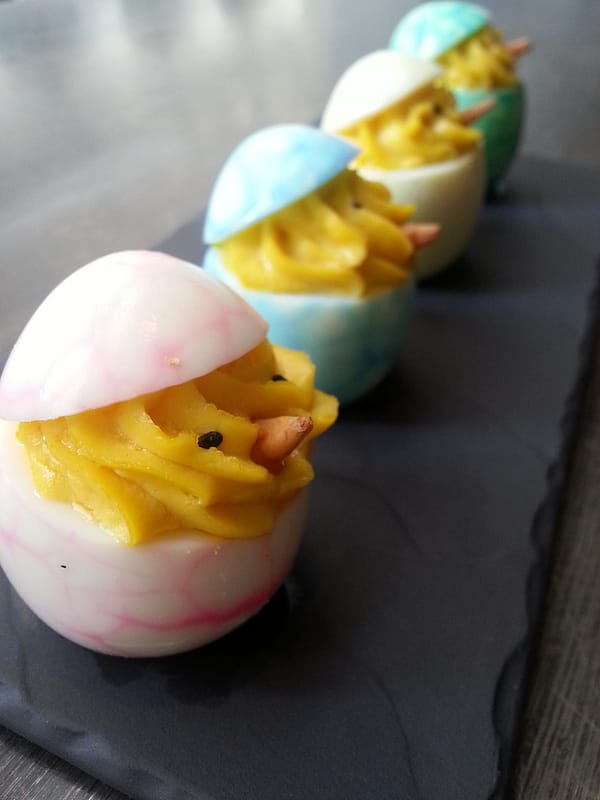 Tie Dye Deviled Easter Egg Chicks

Ingredients
1 dozen hard boiled eggs
1/4 cup mayonnaise
1 tablespoon yellow mustard
2 tablespoons relish
Salt and pepper to taste
Black sesame seeds for eyes
Carrot for noses
Food coloring
Instructions
Cook the eggs in boiling water for 5 minutes.
Gently roll them on a hard surface so that little cracks appear in the shell.
Boil them in water with food coloring in it for another 5 minutes.
Cool the eggs in an ice water bath then peel the shells off.
Cut the tops of the eggs and keep as lids.
Remove the egg yolks from the center.
Chop the yolk finely and add all the other ingredients, season to taste.
Spoon into a piping bag and pipe the filling back into the egg bottom, with a little flourish to make the chick's head.
Cover with the lid – tilted back like the chick is coming out of the egg.
Eyes are two black sesame seeds and a small piece of carrot makes a nose.
Recipe and Photo: Foodista / CC BY