Jump to recipe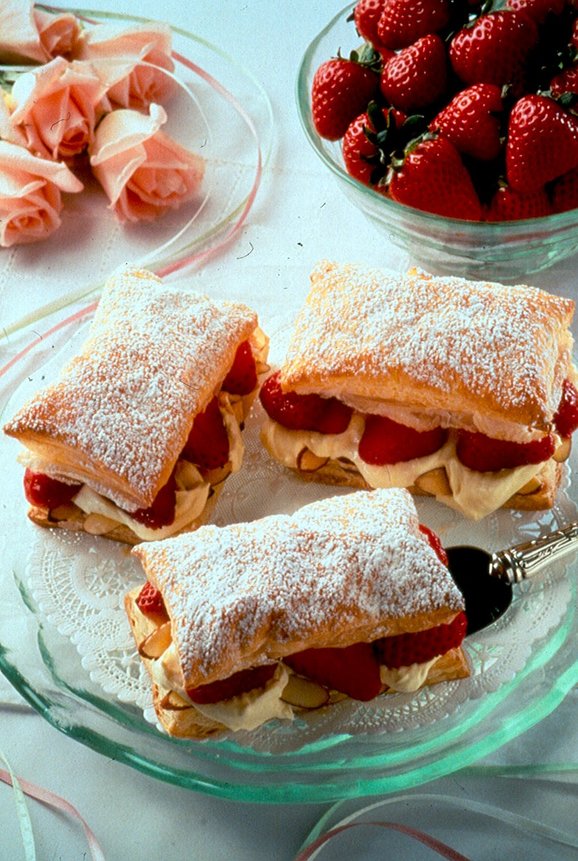 Strawberry-Almond Cream Napoleons

Ingredients
1 sheet puff pastry, frozen
1 package (3.4 ounces) instant vanilla pudding mix
1 cup skim milk
1 teaspoon almond extract
1 cup light whipped topping
2 cups stemmed and sliced California strawberries
? cup sliced almonds, toasted
powdered sugar, for garnish
Strawberry sauce
1 pint basket California strawberries
2 tablespoons granulated sugar
1 teaspoon lemon juice
Instructions
Heat oven to 400°F.
Thaw folded pastry sheet 20 minutes.
Open sheet and cut along folds to make three equal strips; halve each strip to make six rectangles.
Space apart on baking sheet.
Bake in center of oven about 15 minutes until well browned and baked through.
Remove to rack to cool.
Meanwhile, in bowl, whisk pudding mix, milk and extract 2 minutes; fold in whipped topping to blend thoroughly.
Cover and refrigerate.
Carefully split each piece of pastry in half horizontally.
Cover bottom halves with almonds, then pudding mixture and sliced strawberries, dividing equally.
Cover with pastry tops.
Dust with powdered sugar.
Serve with strawberry sauce (recipe follows), if desired.
Strawberry Sauce
Stem and halve the strawberries and purée in blender container with granulated sugar and lemon juice until smooth.
To serve, divide sauce among 6 plates; top each with napoleon.
Note: all components of this dessert can be prepared several hours in advance.
Cover and refrigerate pudding mixture, strawberries and sauce.
Assemble just before serving.
Recipe and Photo: desserts.wikia.com / CC BY-SA