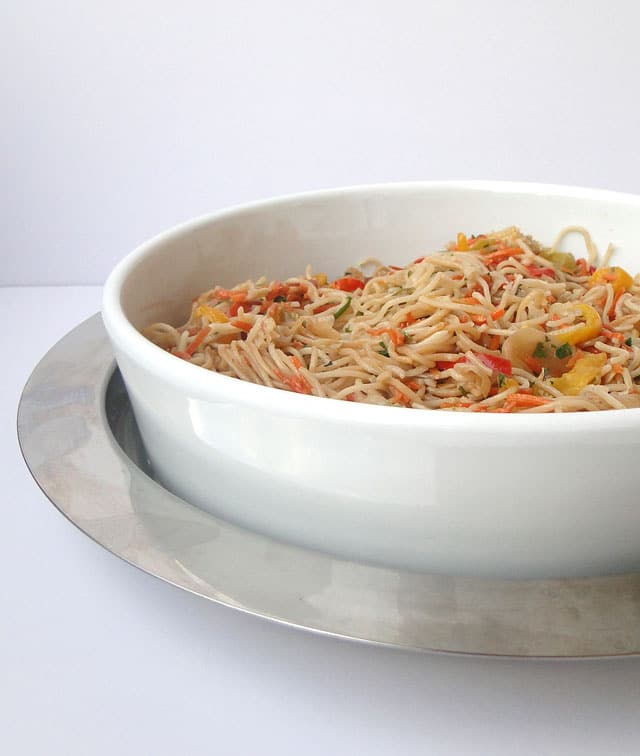 Stir-fried Chicken and Noodles
Ingredients
4 packs instant wheat noodles (100 g each)
1 green pepper, cut into strips
1 red pepper, cut into strips
1 yellow pepper, cut into strips
1 big onion, sliced
2 carrot, julienned
2 cups cabbage, shredded
3 boneless skinless chicken breasts, cut into strips
3 garlic cloves, minced
2 tsp of fresh ginger, peeled and thinly sliced
1-2 tbsp of soy sauce
salt to taste
sesame oil
Instructions
In a large nonstick skillet or wok, heat 2 tbsp of sesame oil, toss the chicken and the ginger and stir-fry for 5 minutes or unitl browned. Remove and keep warm. Stir-fry peppers and carrots in remaining oil for another 5 minutes. Add cabbage, onions and garlic; stir-fry 3 minutes longer or until vegetables are crisp-tender.
Meanwhile, bring salted water to boil in a pot. Add the noodles and cook for 2 mn only. Place them in cold water to stop the cooking process. Drain.
Stir the noodles into vegetable mixture. Return chicken to the pan; cook and stir until heated through.
Add the soy sauce, season with salt and mix.
https://stlcooks.com/stir-fried-chicken-and-noodles/
Recipe and Photo: Chicho's Kitchen / CC BY