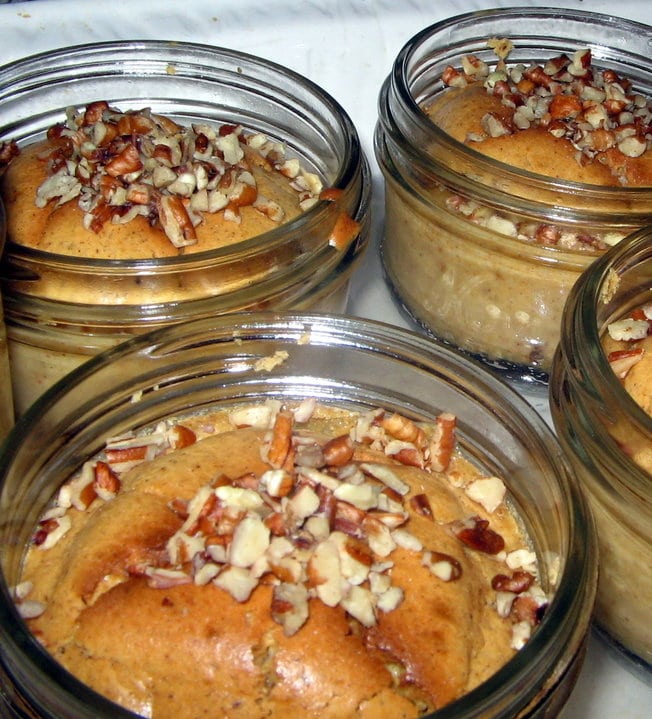 Pumpkin Cheesecake in a Jar
Ingredients
Crust:

2 cups Oreo cookies OR gingersnap cookies crumbs (crushed in blender)
6 tbsp (3/4 stick) unsalted butter, melted

Filling:

4 (8oz.) packages cream cheese, room temp.
1 3/4 cups sugar
1 (15oz.) can pumpkin
5 eggs, room temp.
1 1/2 tbsp ground cinnamon
1/2 tbsp ground ginger
1/4 tbsp ground nutmeg
1/4 tbsp ground cloves
1/2 tsp salt
1 tbsp vanilla extract, room temp.
2 tbsp flour
1/2 cup chopped pecans
Instructions
Preheat over to 350 degrees
Combine Oreo (or gingersnap) cookie crumbs w/ melted butter and mix
Split evenly between jars (about 1tbsp each) and press to the bottom to make the crust
In a large mixing bowl, beat cream cheese and sugar until light and fluffy
Add the pumpkin and beat until incorporated
Beat in the eggs, one at a time
Add the cinnamon, ginger, nutmeg, cloves, salt, and vanilla and beat until incorporated, then add flour and incorporate.
Pour the filling evenly into the jars, leaving room on top for the cheesecake to rise (1/2-1 inch)
Place the jars in roasting pans and fill the pans halfway with boiling water. Careful not to splash any water in the jars. You can also place the roasting pan on a large cookie sheet to make it easier to move around.
Bake 60-70 minutes. They should not jiggle when shaken.
Remove from oven and sprinkle chopped pecans evenly on top.
Begin placing lids on the jars, and close tightly. The jars will make a popping sound when they seal.
Let cool for about 2 hours then place in the fridge. Eat when completely cooled. best on day 2-4.
https://stlcooks.com/pumpkin-cheesecake-in-a-jar/
Recipe and Photo: Foodista / CC BY