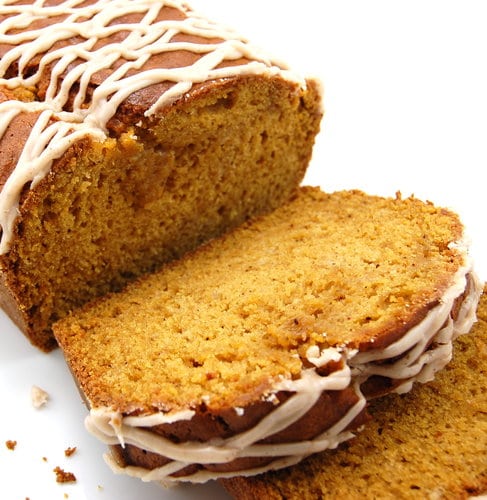 Ingredients
1 1/2 cups unsifted all-purpose flour
1 1/2 cups Sugar
1 teaspoon soda
3/4 teaspoon salt
1/2 teaspoon nutmeg
1/2 teaspoon cinnamon
1 cup mashed cooked pumpkin
1/2 cup cooking oil
1/3 cup water
2 eggs
1/2 cup chopped walnuts
1/2 cup chopped pitted dates

Topping:

1 cup whipping cream
1/4 cup powdered sugar
1/4 teaspoon nutmeg
1/4 teaspoon cinnamon
3/4 cup mashed cooked pumpkin
Instructions
Combine all bread ingredients, except walnuts and dates in large mixer bowl.
Beat at medium spead about 1 minute. Add walnuts and dates, pour batter into 2-quart glass loaf dish.
Microwave on simmer at least 20 minutes. Then microwave on high for 5–6 minutes ot until toothpick inserted near center comes out clean.
Let stand 2 minutes. Remove from dish.
Mix topping ingredients together. Drizzle over top of the loaf. Slice to serve.
https://stlcooks.com/pumpkin-bread/
Recipe and Photo: recipes.wikia.com / CC BY-SA