Jump to recipe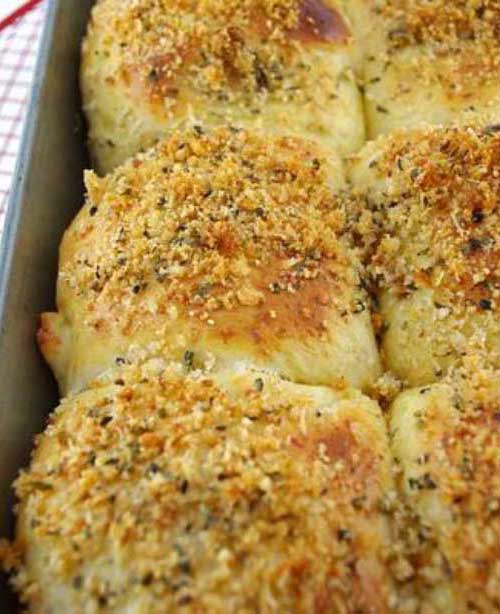 These Parmesan Dinner Rolls are loaded with freshly grated Parmesan to make a gorgeous, light, fluffy and moist dinner roll full of Parmesan flavor.
Parmesan Dinner Rolls

These Parmesan Dinner Rolls are loaded with freshly grated Parmesan to make a gorgeous, light, fluffy and moist dinner roll full of Parmesan flavor.

Ingredients
4 1/2 teaspoons (13.8 g) instant dry yeast
1/2 cup (125 ml) warm water (body temperature)
1 teaspoon sugar
1/2 cup (60 g) flour
1 cup (250 ml) lukewarm milk
1/4 tablespoon cup/4 (60 g) unsalted butter softened to room temperature
1 teaspoon salt
cup (65 g) sugar
1 large egg, beaten until well blended
4 cups to 5 (500 to 625 g) flour
7 ounces (200 g) freshly and finely grated Parmesan cheese
Topping:
2 tablespoons (30 g) butter, melted
1/4 cup breadcrumbs, homemade is preferable!
1/4 cup grated finely grated Parmesan (for this I used packaged which is finer)
1 tablespoon dried oregano
1 tablespoon egg yolk beaten with 1 cold water
Instructions
In a large mixing bowl, combine the instant dry yeast, the 1 tsp sugar and the ½ cup flour.
Add the warm water and stir briefly with a fork just to make sure that all of the dry ingredients are moistened.
Leave to activate, about 15 or 20 minutes until frothy and bubbly and it seems to have grown a bit.
Now add the lukewarm milk, the softened butter, the salt, sugar and beaten egg and stir just to combine.
Now begin adding and stirring in the flour and the grated Parmesan until you have the cheese and 4 cups of the flour has been added and a dough is forming: all the dry ingredients are moistened and it is all starting to pull together into a ball.
Add a bit more flour if it is too wet.
Scrape out onto a floured work surface and knead for 6 minutes or so, kneading in as much of the remaining cup of flour as necessary until you have a soft, smooth, elastic dough.
Place the dough in a clean, lightly oiled bowl, turning the dough to coat in oil, and cover with plastic wrap and a kitchen towel and allow to rest for 30 minutes. The dough will have risen though not doubled.
Scrape the dough out onto a lightly floured work surface and press down.
Divide into 16 pieces for large dinner rolls, up to 32 pieces for small buns and gently shape into rounds.
Lightly butter the bottom and side of a 9 x 13-inch (22 x 33 cm) baking pan and place the rolls in the pan leaving about 1 inch (2.5 cm) between the rolls.
Cover once again with the plastic wrap and towel and let sit and rise for about 30 minutes until doubled. They will now be touching.
Meanwhile, preheat the oven to 375°F (190°C).
Gently heat and melt the butter for the topping.
Blend the breadcrumbs and grated Parmesan in a small bowl and stir in the melted butter until you have a crumble.
Brush the tops of the rolls with the egg wash then generously sprinkle the tops of the buns with the crumble, pressing the crumble on to stay.
Bake the rolls for 20 to 40 minutes depending on the size of the rolls and your oven. The rolls should be very puffed up and fluffy and the top should be a deep golden brown.
If you think that the tops of the buns are browning too quickly, cover loosely with aluminum foil until they are done.
Recipe and Photo: Foodista / CC BY