Jump to recipe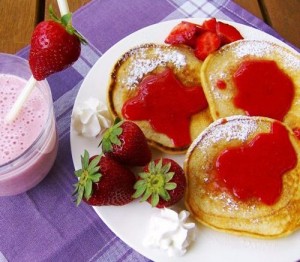 Recipe for Pancakes with Strawberry Sauce
Pancakes with Strawberry Sauce

Ingredients
2 cups flour
1 cup milk
1 whole egg
1 1/2 tbsp butter
1 tablespoon sugar
1 teaspoon of baking powder
1 pinch of salt
1 knob of butter (to grease the Pan)
For the strawberry sauce:
3 whole strawberries
3 strawberries, cut into cubes for garnish
Instructions
Put first the liquid ingredients egg and milk in a bowl. Add the flour, baking powder, sugar and salt.
Carefully mix all ingredients until batter without lumps. Dissolve butter (20 g) and add it to the mixture.
Melt the butter now, be careful not to get burnt.
At this point, pour a generous spoonful of the mixture into the pan.
Let Cook over medium/low for a few minutes (maximum of 2 or 3) on both sides, until the pancakes are golden well.
Recipe and Photo: Foodista / CC BY