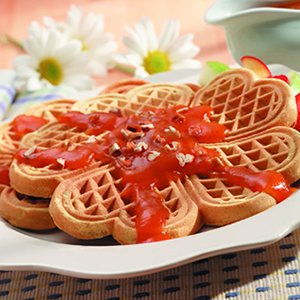 Ingredients
2 cups all-purpose flour
1/4 cup granulated sugar
1 tablespoon cornstarch
2 teaspoons baking powder
2 teaspoons ground cinnamon
1/2 teaspoon salt
1/4 teaspoon ground ginger
1/4 teaspoon ground nutmeg
2 large eggs, separated
1 3/4 cups milk
1/2 cup Libby's 100% Pure Pumpkin
2 tablespoons butter or margarine, melted
3/4 cup chopped nuts, reserve some for topping, if desired
Instructions
COMBINE flour, sugar, cornstarch, baking powder, cinnamon, salt, ginger and nutmeg in large bowl. Combine egg yolks, milk and pumpkin in medium bowl; mix well. Add to flour mixture. Stir in butter. Beat egg whites in small mixer bowl until soft peaks form. Gently fold into pumpkin mixture.
PREHEAT waffle iron according to manufacturer's directions. Depending on size of waffle iron, pour 1/2 cup to 1 1/2 cups batter onto hot iron. Generously sprinkle with nuts. Bake for 4 to 5 minutes or until steaming stops. Repeat with remaining batter and nuts. Serve with Pumpkin Maple Sauce.
For Pumpkin Maple Sauce: HEAT 1 1/4 cups Libby's 100% Pure Pumpkin, 1 cup maple syrup and 1/4 teaspoon ground cinnamon in small saucepan until warm.
https://stlcooks.com/nutty-pumpkin-waffles/
Recipe and Photo: Libby's 100% Pure Pumpkin