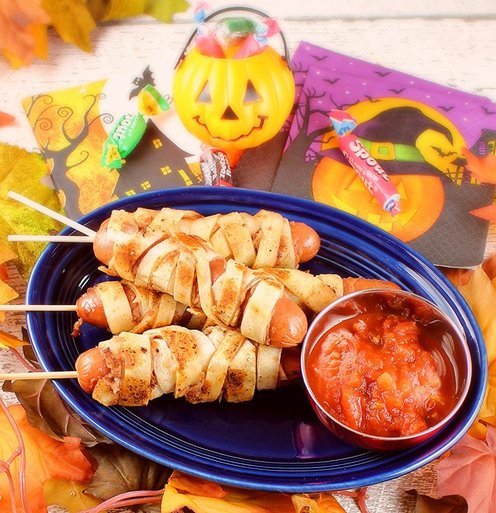 Ingredients
8 all-beef hot dogs
2 extra-large flour tortillas (or more of smaller ones) or 4-6 very fresh corn torillas
1/2 cup canned refried beans
2 tablespoons butter
salsa or nacho cheese dip (optional)
8 "6–inch" wooden skewers (optional)
Instructions
Lay out a tortilla and spread refried beans all over one side in a thin layer.
Use a pizza cutter to cut tortilla in thin strips to make the "bandages".
Pick up a strip and press on the hot dog, bean side down and wind it around like a mummy, pressing the beany side onto the hot dog. Repeat with other hot dogs. Don't worry if they are slightly messy. When they brown, you won't really notice it.
Heat butter in a non-stick skillet and brown hot dogs on all sides until crisp, turning gently. (If a piece of bandage comes loose, use a little bit of beans to stick it back down, like glue)
Carefully insert a wooden skewer into one end.
Serve mummy dogs with salsa or warm nacho cheese dip.
https://stlcooks.com/mexican-mummy-dogs/
Recipe and Photo: Foodista / CC BY