Jump to recipe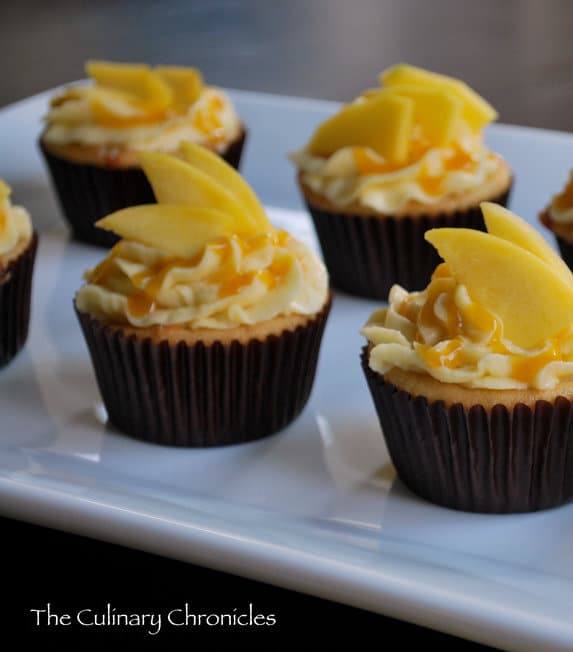 Mango-licious Cupcakes

Ingredients
Mango Cupcakes
2 Cups Cake Flour
2½ Teaspoon Baking Powder
¼ Teaspoon Salt
¾ Cup Unsalted Butter, room temperature
2/3 Cup Sugar
2 Large Eggs
2/3 Cups Mango Yogurt
2 Teaspoons Pure Mango Extract
1 Cup Fresh Mango Puree
Mango Buttercream Frosting
2 to 3 Cups Confectioners Sugar, sifted
1½ Cup Unsalted Butter, room temperature
1/3 Cup Fresh Mango Puree
1 Teaspoon Pure Mango Extract
1-2 Tablespoons Sour Cream (can substitute with milk)
Mango Coulis
1½ Cups Fresh Mango, cubed
1 Teaspoon Fresh Lemon Juice
¼ Cup Water
½ Cup Sugar
Instructions
Mango Coulis:
In a saucepot, combine the chopped mango, lemon juice, water and sugar together. Bring the mixture up to a boil. Reduce to a simmer and cook for 5 minutes or until the fruit is very tender. Pour the mixture into a food processor and puree until smooth. Chill for at least 30 minutes.
Mango Cupcakes:
Preheat oven to 350 degrees. Line standard muffin tin with paper liners. Into a bowl, sift together flour, baking powder, and salt; set aside. In a mixing bowl, cream butter and sugar until light and fluffy. Add eggs, one at a time, beating well after each, then beat in yogurt and mango extract. With mixer on low speed, add flour mixture in three batches, alternating with mango puree and beginning and ending with flour. Be careful to not over mix. Pour batter into cups, filling each 3/4 full. Bake until a toothpick inserted in centers comes out clean, about 25 minutes. Cool in pan 5 minutes; transfer to a wire rack to cool completely. While cupcakes are cooling, prepare frosting.
Mango Buttercream:
In a large mixer bowl, whip the butter for several minutes until very light and fluffy. Add mango puree and mango extract. Whip until combined. Slowly add the confectioners sugar until the frosting becomes thicker and stiff. Add sour cream and whip until desired piping consistency.
Fill piping bag with the frosting and pipe large swirls on top of cooled cupcakes. Drizzle mango coulis over the cupcakes and top with fresh slices of mangoes.
Recipe and Photo: The Culinary Chronicles / CC BY-ND