Jump to recipe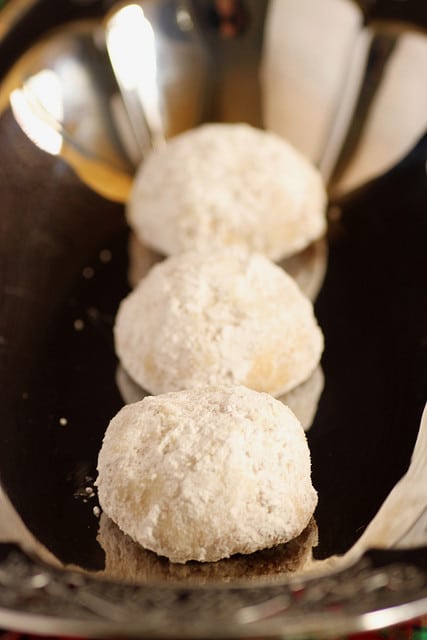 Lemon Coconut Snowballs

Ingredients
1 cup (2 sticks) unsalted butter, softened
½ cup powdered sugar
1 teaspoon coconut extract (I used lemon extract because I had some)
1 teaspoon vanilla extract
2¼ cups all-purpose flour
1½ tablespoons fresh lemon zest
½ teaspoon salt
1 cup sweetened flaked coconut
1½ cups powdered sugar (for rolling)
Instructions
Spread coconut evenly on a baking sheet and bake at 350F for 7-10 minutes until lightly browned. Set aside.
Beat butter on medium speed until smooth and creamy. Gradually add ½ cup of powdered sugar and extracts, beating until well mixed. Add flour, salt, and zest, and beat until combined. Stir in coconut. Cover dough and chill for 30 minutes.
Once dough has chilled, preheat oven to 350F. Line baking sheet(s) with parchment paper. Roll dough into balls about 1 inch in diameter and place 1 inch apart on prepared baking sheets. Bake at 350F for 15-20 minutes. Cookies should be golden on the bottom but still pale on top.
Let cookies cool on a wire rack for 5 minutes. Place 1½ cups of powdered sugar (I sifted mine since it had some lumps) in a bowl. Roll warm cookies generously in powdered sugar and return to cooling racks. When cookies are completely cool, roll them in powdered sugar again, coating completely.
Photo Courtesy of Stacy Spensley on flickr / CC BY