Jump to recipe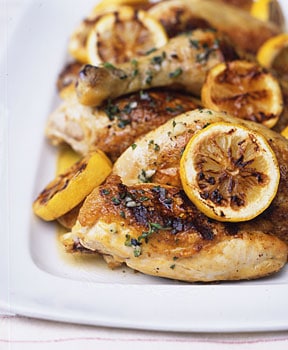 Ingredients
1 chicken, 2 to 3 pounds
2 whole lemons, halved
¼ teaspoon pepper
1 teaspoon salt
½ teaspoon paprika
3 tablespoons melted butter
¼ teaspoon thyme
Instructions
Split the chicken in 2.
Rub all over with a lemon half.
Combine the salt, pepper and paprika and sprinkle it over the chicken halves on both sides.
Mix the melted butter with the thyme.
Spear a lemon half on a fork, dip it in the butter mixture and use it to baste the chicken skin.
Place the chicken on the BBQ grill 3 inches from the coals and grill for a total of 25 to 30 minutes, turning often, until tender.
Keep the butter warm.
Use the same lemon half to baste the chicken often.
This will make the skin crisp and tasty while flavoring the chicken.
Recipe and Photo: recipes.wikia.com / CC BY-SA