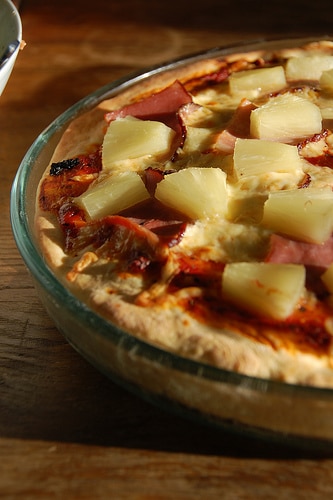 Recipe: Hawaiian Pizza
Ingredients
For the dough:
2 2/3 Cups of Flour
7 grams of dry Yeast (1 packet)
½ teaspoon of Salt
8 ounces of Milk
2 + 1 Tablespoons of Olive Oil
2 teaspoons of Sugar
For the pizza sauce:
¼ Cup of Tomato Paste
2 Tablespoons of Water
dash of Salt, Pepper, Garlic powder, and Onion Powder
For assembly:
2 Tablespoons of Olive Oil
1 Cup of grated Gouda cheese (or Mozzarella)
2 rings of canned Pineapple, cut into chunks
4 small slices of ham, chopped
Instructions
Make the dough: Preheat oven to 95°C (200°F) and then turn off. In a mixer bowl (I used the one that attaches into my KitchenAid mixer…see my Culinary Store for more information), combine flour, yeast, and salt. In a small sauce pan, heat-up to about 43°C (110°F), but do not bring to a boil, the milk, 2 tablespoons olive oil, and sugar. Set your mixer bowl into your mixer with the dough hook in place, and turn it on to kneed. Slowly pour in the milk mixture, and then turn the speed up to 6 and let it kneed for 5 minutes. Remove the dough from the bowl and shape it into a ball. Lightly grease a bowl with 1 tablespoon of olive oil. Place the ball of dough in the greased bowl and cover with plastic wrap. Let the dough stand in the pre-warmed oven for 30 minutes. Remove from oven and divide the dough in half.
Make the sauce: Place all ingredients in a bowl and mix until combined. Add more tomato paste for a thicker consistency, or more water for a thinner consistency.
Assemble and bake pizza: Preheat oven to 200°C (400°F). Coat each pie dish with 1 Tablespoon of olive oil. On a floured surface, roll pizza dough out into a circle that is just slightly larger than the pie dish (the dough should slightly come up the edges of the pie dish, but not go over the edge when placed in). Lay the dough into the oiled pie dish. Coat the dough with pizza sauce, but don't coat the edges so that you still have crust. Sprinkle the cheese over the sauce. Layer on the ham and pineapple, and then bake for 20 minutes.
Number of servings (yield): 2 9″ pies

Recipe and Photo credit: For the Love of Food / CC BY-NC