Jump to recipe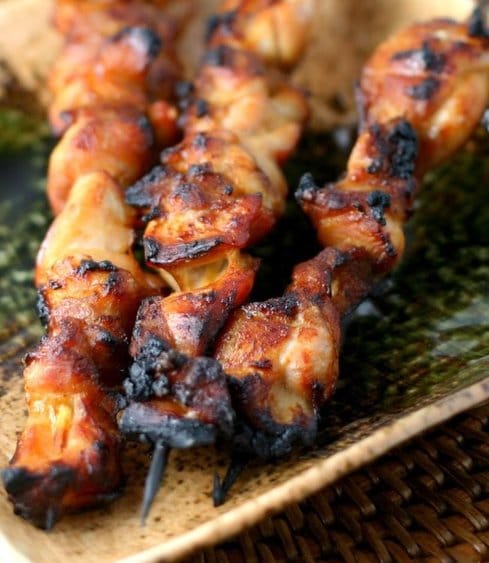 Ingredients
Chicken thighs, cut into strips
Bamboo skewers, soaked in water for at least 20 minutes
Marinade
2 tbs. garlic, minced
1 cup scallion, chopped
1/2 cup sugar
3/4 cup soy sauce
1/2 cup sake
2 tbs. minced ginger
1/4 cup mirin
1/4 cup oil
1 apple, grated
1 tbs. red pepper
Instructions
Combine marinade ingredients.
Put chicken thigh strips into a Ziploc bag. Add enough sauce to marinate the meat.
Put the Ziploc bag in the fridge for 2 hours. Put bamboo skewers in water to soak.
Cover a cookie sheet with foil and put a cookie rack on top of it (if it's oven safe of course and just made of metal).
Put the oven rack on the top shelf and turn the broiler on high (if you have a choice between low and high.
Thread the chicken on skewers and put on the cookie rack. You can either discard the marinade or reserve it to brush on the skewers once you turn them over.
Before putting the chicken in the oven, tear off a strip of aluminum foil and place under the exposed wooden ends of the skewers and on top of the cookie sheet, as many as the strip will cover (4 or 5 skewers). Fold 1/2 of the strip over the top of the skewer ends up to the edge of the meat. This doesn't have to e perfect — the main use of the foil is to keep the wood from being overly exposed to the heat source.
Put the chicken under the broiler. Let cook for 8 minutes or until the edges of the meat look charred. Take the chicken out of the oven and turn them over, brushing with marinade if desired. Cook 7 minutes or until the other side is charred and the chicken is cooked through.
Recipe and Photo: Big Bold Beautiful Food / CC BY