Jump to recipe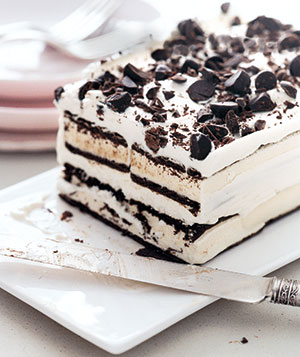 Ingredients
1 pkg. 24 ice cream sandwiches
1 pkg. Oreo Cookies
2 tubs Cool Whip
1 bottle chocolate sauce
Instructions
Fill the bottom of a 9×13 pan with one layer of ice cream sandwhiches. You will use 12 sandwiches, but may need to cut some, to make them fit the pan.
Cover sandwiches with a layer of Cool Whip. Crush Oreos in a Ziploc bag, and sprinkle on the Cool Whip. Drizzle chocolate sauce on top.
Lay a 2nd layer of sandwiches on top and repeat with the Cool Whip,Oreos and chocolate sauce.
Freeze for 2 hours, cut & enjoy!
Recipe and Photo: The Paw Print / CC BY-SA