Jump to recipe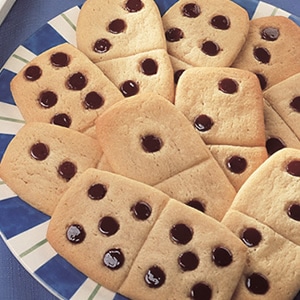 Cookie Dominos

Ingredients
1 package (18 ounces) Refrigerated Sugar Cookie Dough Bars
All-purpose flour
1/4 cup (1.5 ounces) Semi-Sweet Chocolate Chips
Instructions
PREHEAT oven to 325° F.
CUT dough in half lengthwise; refrigerate one half. Sprinkle about 1 tablespoon flour onto work surface. Sprinkle additional flour over remaining dough half. Roll out dough to 1/4-inch thickness to form a 10- x 6 1/2-inch rectangle. Cut into 10 equal-size rectangles. Place 2 inches apart on baking sheet. Score each rectangle across middle with a knife. Gently press morsels, point side down, into dough to form domino numbers. Repeat with remaining dough.
BAKE for 10 to 13 minutes or until edges are golden brown. Cool on baking sheets for 2 minutes; remove to wire racks to cool completely.
Recipe and Photo Courtesy of Nestlé® Toll House®