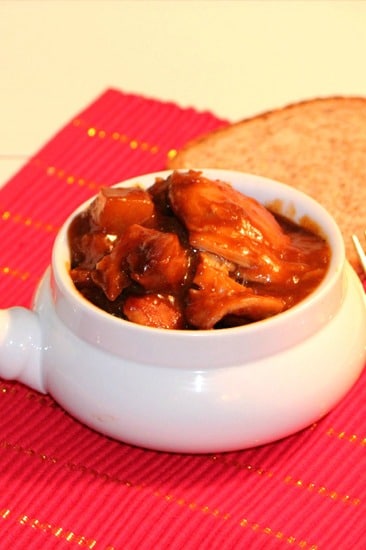 Coconut Sweet and Sour Chicken
Ingredients
1 pckg. organic chicken thighs.
1 13.55oz can coconut milk
1 4oz.. can Pineapple Chunks
1 bottle bbq sauce (your choice)
2 tbsp. garlic powder
1 tbsp. white pepper
2 splashes coconut aminos
2 tbsp. Worcestershire sauce
1/4 cup shredded coconut
---
Instructions
Wash chicken thoroughly
Salt and pepper both sides of chicken
Add chicken to hot pan.
Add coconut milk and pineapple to pan. Mix it all together with chicken.
Bring to a boil.
Add garlic, white pepper, coconut aminos, Worcestershire sauce.
Continue to boil.
Add BBQ sauce and shredded coconut.
Bring all ingredients to boil.
Flip chicken over every few minutes.
Bring temperature down to medium. Cover and let simmer until chicken is cooked through.
Uncover and reduce temperature to a low simmer for 10 minutes. Sauce will thicken.
Notes
If you can not find coconut aminos, you can make something that tastes very similar. Combine 1 can coconut milk and 2 tbsp. red curry paste. Store the extra in your fridge for a few days. If you need to use the leftover before they spoil, just make a quick coconut curry stir-fry!
https://stlcooks.com/coconut-sweet-and-sour-chicken/