Jump to recipe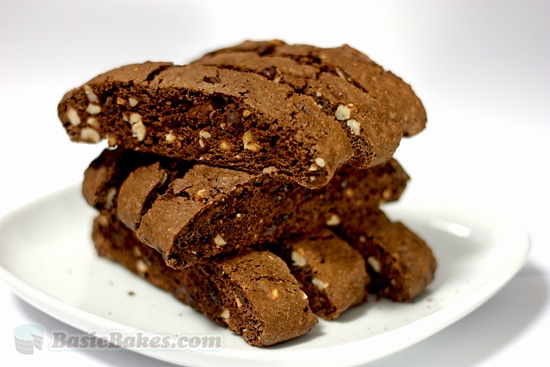 Chocolate Hazelnut Biscotti

Ingredients
220g all-purpose flour
30g unsweetened cocoa powder
1/2 tsp baking powder
1/2 tsp baking soda
100g skinned, whole hazelnuts
100g mini chocolate chips
1/2 tsp salt
200g caster sugar
1 egg
1 tsp vanilla extract
1/4 cup water (make sure it's hot if you're using the coffee powder)
1 tsp instant coffee powder (opt.)
1 tbsp milk
Instructions
Tear out a piece of baking paper that will fit your sheet tray. Using a pencil and a ruler, draw two 10-inch by 2-inch rectangles about 3-inches apart. These will serve as guides for when you shape the biscotti logs. Flip the paper over and place on your sheet tray. Preheat your oven to 175°C (350°F).
Dissolve the instant coffee powder (if using) into the hot water, and leave aside to cool. Sift the flour, cocoa, baking powder and baking soda into a large bowl. Put the hazelnuts into a resealable plastic bag and bash into small pieces with something stout like a wooden rolling pin. Add the hazelnut debris and mini chocolate chips to the dry ingredients.
In a separate bowl, add the salt, sugar, egg, vanilla extract, cooled strong coffee (or just plain water), and milk, and stir well to combine. Add this liquid mixture to the dry and stir until a slightly stiff and sticky dough forms.
Divide the dough equally and spoon onto the sheet tray within the two rectangular boxes you marked out earlier. Using a spoon or spatula dipped in water, flatten the top of the log and smooth out the edges.
Bake the logs for 35 minutes. Remove the logs from the oven and cool for 10 minutes. Lower your oven temperature to 150°C (300°F).
After 10 minutes, cut the logs into 3/4-inch slices. Lay them cut side up on the sheet tray (you may have to line it with a fresh piece of baking paper).
Bake for 10-15 minutes on each side. For softer biscotti, just bake them for 5 minutes on each side.
Recipe and Photo: Basic Bakes / CC BY-ND (For variations to this recipe, and more pictures, be sure to visit Basic Bakes!)