Jump to recipe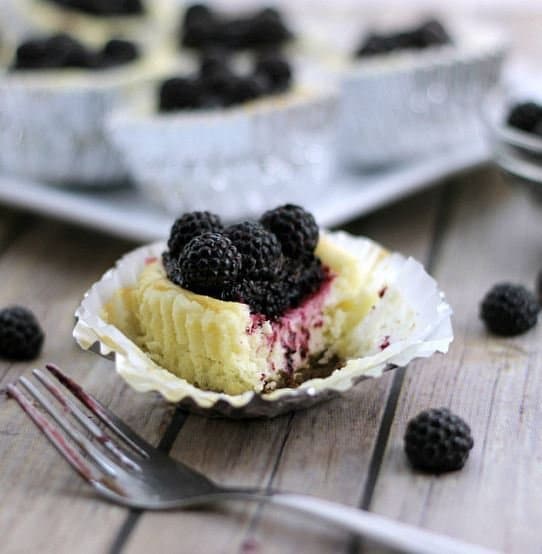 Cheesecake Minis With Homemade Berry Jam

Ingredients
Lemony Cheesecake Minis
12 gingersnaps
an 8 oz. package fat free cream cheese, at room temperature
an 8 oz. package Neufchatel cheese, at room temperature
1/2 cup Stevia In The Raw®
1/4 cup sugar
2 eggs, at room temperature
1/2 teaspoon vanilla extract
the zest of a lemon, grated
Homemade Berry Jam
2 cups fresh berries
1/4 cup Stevia In The Raw®
1/4 cup sugar
1 tablespoon cornstarch
1/2 teaspoon lemon juice
dash cinnamon
dash nutmeg
Instructions
Lemony Cheesecake Minis
Preheat the oven to 350°. Place one rack in the middle of the oven, and another near the bottom. Place a cookie sheet on the bottom rack and use a pitcher or bottle to fill it halfway with water. Fill a 12-muffin pan with paper liners, and place a gingersnap flat-side down in the bottom of each.
Use an electric mixer to beat the cheeses together until they're light and creamy, about two minutes. Beat in the Stevia In The Raw® and sugar. Switch to a wooden spoon and stir in the eggs, one at a time, until they're just combined. Stir in the vanilla and lemon zest.
Fill each muffin liner to about 1/4? from the top. Bake for 20-23 minutes. Take the cakes out when they just start to turn golden on the edges and still jiggle a bit when you shake the pan. Let cool completely, then refrigerate at least 2 hours before serving.
Homemade Berry Jam
Place the berries in a medium saucepan, and use a potato masher to crush them up. Stir in the Stevia In The Raw® and sugar. Transfer about a tablespoon of berry juice to a small bowl, and stir in the cornstarch. Add the cornstarch mixture back into the saucepan.
Cook the berries over medium heat for about 10 minutes, stirring often, until they come to a boil. Stir in the remaining ingredients. Let the jam cool completely before spooning over your cakes. You can use the jam to anchor extra berries onto your cakes.
Image and recipe reprinted with permission from neatstuff.info and www.healthyaperture.com