Jump to recipe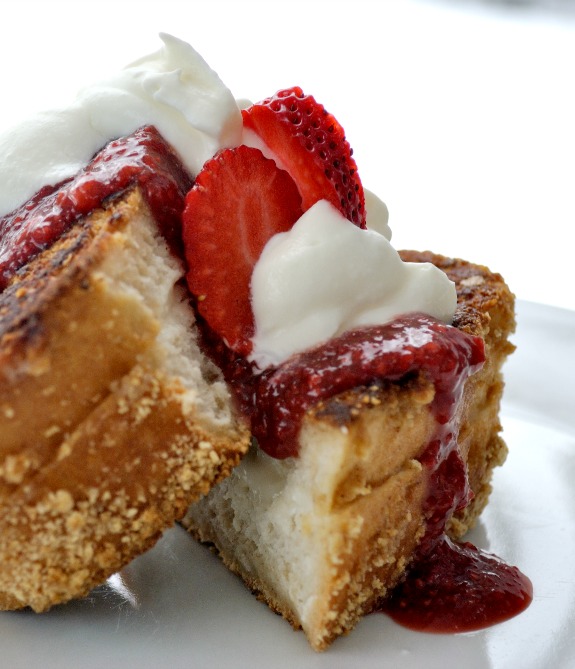 Cheesecake French Toast with Fresh Strawberry Sauce

Ingredients
Strawberry Sauce
Pint of strawberries, about 10 large berries, stemmed and hulled
2 tbsp sugar
1 tbsp balsamic vinegar
Filling
4 tbsp cream cheese (neufchatel is fine)
2 tbsp sugar
1 tsp vanilla
a splash of fresh lemon (squeeze a lemon wedge)
French Toast
8 slices of crusty bread (Vienna or French bread is fine)
1 egg
3/4 cup milk
2 tsp vanilla
2 tbsp sugar
1 tbsp melted butter
1/4 teaspoon cinnamon
1/4 teaspoon salt
Pinch of nutmeg
1/4 cup flour
1 cup finely crushed graham crackers
Butter for grilling, about 1-2 tsp
Instructions
For the sauce, place the berries, sugar, and balsamic vinegar in a food processor or blender, and blend until completely pureed.
For the filling, beat the cream cheese with the sugar, vanilla, and lemon juice until well-blended and creamy.
Combine the egg, milk, vanilla, sugar, spices, and melted butter. Beat in the flour until it forms a smooth batter.
Set up a small assembly line. Spread a heaping scoop of the cream cheese onto one slice of bread and top with another slice of bread to make a sandwich. Dip the sandwich into the egg batter, allowing it to soak for a few seconds on both sides. Then dip the sandwich into the crushed graham crackers, coating it on both sides. Set the coated sandwich on a sheet of wax or parchment paper, and continue with the rest of the bread. It should make 4 sandwiches.
Warm a large non-stick pan or griddle over medium heat. Melt the butter and cook the sandwiches until warmed through and golden brown on both sides, about 3 minutes per side.
Serve with the strawberry sauce.
Recipe and Photo: The Haute Meal / CC BY-SA