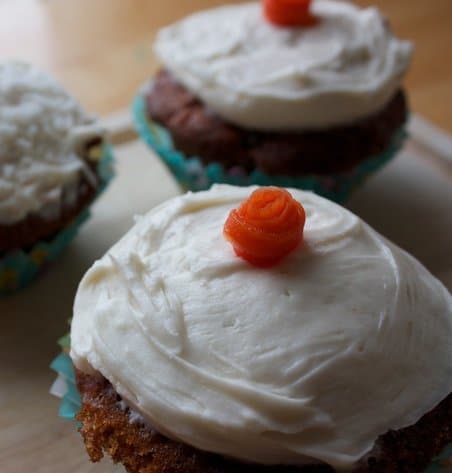 Carrot Cupcakes with Cream Cheese Frosting
Ingredients
2 Eggs
1 cup packed light brown sugar
¾ cup canola oil
3 tbs lowfat buttermilk
½ tsp vanilla extract
1 cup plus 2 tbs unbleached all–purpose flour
½ tsp baking powder
½ tsp baking soda
½ tsp kosher salt
½ tsp ground cinnamon
¼ tsp ground ginger
2 cups shredded carrots
½ cup raisins
½ cup chopped walnuts

Cream Cheese Frosting

12 oz cream cheese, at room temperature
½ cup unsalted butter, at room temperature
1 2/3 cup confectioners' sugar
Instructions
Preheat oven to 350 degrees F. Line standard 12-cup muffin tin with paper liners.
In a large bowl or using a stand mixer, beat together eggs and brown sugar on med-high speed for 3-4 minutes, or until mixture is light in color and thick. In a small bowl, whisk together the oil, buttermilk, and vanilla. On low speed, slowly pour the oil mixture into the egg-sugar mixture.
In a small bowl, sift together the flour, baking powder, baking soda, salt, cinnamon, and ginger. Using a rubber spatula, fold flour mixture into egg-sugar mixture until fully incorporated.
Add carrots, raisins, and walnuts and continue to fold until well mixed. Pour the batter into the prepared muffin cups.
Bake cupcakes for about 50 minutes, or until golden brown. Cool in muffin tin on wire rack.
Meanwhile to make the frosting, beat cream cheese (with paddle attachment) on medium speed for about a minute until smooth. It is important cream cheese is at room temperature or the frosting will be lumpy. You can microwave on medium power for 30 seconds to soften (be sure to remove foil wrapper!).
Add the butter and continue to beat for another minute. Then add the confectioners' sugar and beat for one more minute until well mixed. Chill frosting in the refrigerator to firm it up before using.
Remove cupcakes from muffin tin and frost cupcakes. Decorate with shaved coconut, carrot strips or lemon zest.
https://stlcooks.com/carrot-cupcakes-with-cream-cheese-frosting/
Recipe and Photo: Umommy / CC BY-ND