Jump to recipe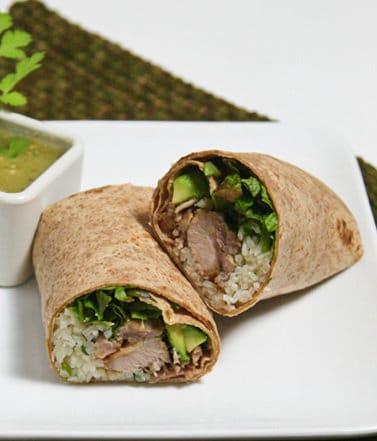 Ingredients
Carnitas
1 lb. pork shoulder
2 tsp. cumin
1 tsp. fresh sage, minced
1 tbsp. fresh oregano, minced
2 garlic cloves
1 tsp salt
Pork stock (enough to cover)
Tomatillo Salsa Verde
1 lb. tomatillos
1 garlic clove
¼ onion
1 Serrano pepper
¾ tsp. salt
¼ tsp. sugar
1 tsp. lime
2 tbsp. cilantro
Other Fixings for Burrito
(4) Whole Wheat Tortillas
2 cups cooked white rice seasoned with lime juice, olive oil, cilantro, salt and pepper (all to taste)
2 cups shredded lettuce
Half avocado, sliced
Instructions
Carnitas
In a large pot, combine pork shoulder, cumin, sage, oregano, garlic, and salt.
Cover pork with pork stock just enough to cover the meat.
Braise for 2 hours over a low-medium simmer.
30 minutes before pork should be done, pre-heat oven to High Broil.
Transfer braised pork to baking dish, including the liquid, to keep the pork moist.
Broil on High for 10 minutes.
Tomatillo Salsa Verde
Remove the husk and the stem from the tomatillos and wash well.
Boil tomatillos for 20 minutes until they evenly turn a dull green color.
Drain tomatillos and transfer to a blender.
Add garlic, onion, Serrano pepper, salt, sugar, lime, cilantro and blend until fully combined.
Chill and serve.
Final Assembly
Lightly heat the tortillas on the stove until warm (or microwave).
Place ingredients in the bottom center of the tortilla: cilantro-lime rice, shredded pork, lettuce, avocado, and salsa verde. Fold sides over and roll tortilla.
Recipe and Photo credit: The Food Addicts by The Food Addicts is licensed under a Creative Commons Attribution-Noncommercial-Share Alike 3.0 United States License.