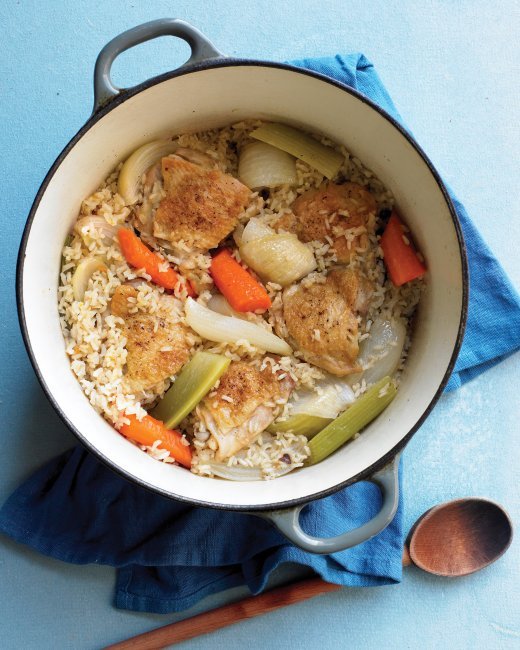 Brown Rice Chicken Skillet Dinner
Ingredients
1 tablespoon oil
1 large onion, chopped
2 large cloves garlic, minced
1 pound boneless, skinless chicken breast, cut into 1-inch pieces
1 x 14½-ounce can whole tomatoes, coarsely chopped
1 x 6-ounce can tomato paste
½ cup water
2 teaspoons dried Italian seasonings
¼ teaspoon crushed red pepper flakes
3 cups hot cooked brown rice
1 x 10-ounce package frozen chopped spinach, thawed and squeezed dry
½ cup grated Parmesan cheese, divided
Instructions
Heat oil in large skillet over medium-high heat. Add onion and garlic; cook 2 to 3 minutes, or until Onion is tender.
Add chicken and cook just until chicken loses its pink color, stirring constantly.
Add tomatoes, tomato paste, water, Italian seasoning and pepper flakes. Bring to a boil; reduce heat and simmer uncovered 5 minutes.
Stir in rice, spinach and ¼ cup cheese; heat thoroughly. Sprinkle with remaining ¼ cup cheese just before serving.
https://stlcooks.com/brown-rice-chicken-skillet-dinner/
Recipe and Photo: recipes.wikia.com / CC BY-SA