Jump to recipe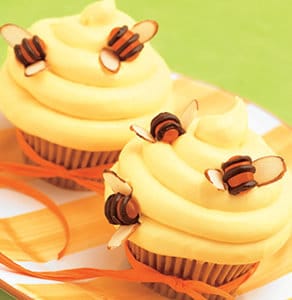 Ingredients
1 (13-ounce) bag Snickers Miniatures, chopped
24 cupcake paper liners
1 (18-ounce) box favorite cake mix
2 (16-ounce) cans classic vanilla frosting
Yellow food coloring
1 (14-ounce) bag Starburst Jellybeans Original Fruits
1/4 cup sliced almonds
1 tube chocolate decorating frosting, with plain tip
2 resealable plastic bags
Instructions
Unwrap and chop all miniatures, set aside.
Line 24 muffin cups with paper liners. Prepare cake mix, fold in chopped miniatures and bake according to package directions.
Let cupcakes come to room temperature.
In the meantime, tint frosting with yellow food coloring to desired shade. Frost top of each cupcake to cover.
Spoon remaining frosting into resealable plastic bag. Cut off 1/4-inch from tip. To create a "hive" on each cupcake, pipe on frosting in spiral fashion, starting with bottom of hive and working up to top.
Separate orange jellybeans from package. Arrange 3 to 4 jellybeans on each frosting hive. Gently squeeze chocolate frosting through tip in zigzag pattern over jellybeans.
Angle an almond slice on each side of jellybeans as bee wings.
For more cute dessert ideas visit: http://www.marsbrightideas.com/
Photo and Recipe courtesy of M&M/Mars