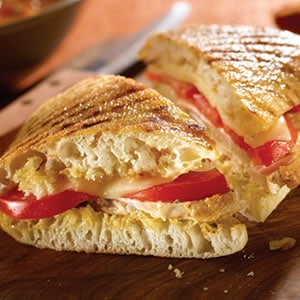 Basil-Rosemary Turkey Panini
Ingredients
12 ounces Italian bread, cut in half lengthwise

Dressing

1/3 cup Extra Virgin Olive Oil
2 tablespoons Red Wine Vinegar
1 tablespoon Dijon mustard
1 tablespoon fresh, chopped rosemary or 1 teaspoon dried rosemary leaves, crumbled
2 medium garlic cloves, minced
Salt and pepper to taste
1/8 teaspoon dried pepper flakes, optional
1/2 cup chopped, fresh basil or 2 1/2 tablespoons dried basil leaves

Filling

1 cup thinly sliced leftover cooked turkey or chicken (about 5 ounces)
1 large tomato, thinly sliced
4 slices Pepper Jack cheese, provolone, or mozzarella (about 3 ounces total)
Instructions
Whisk all dressing ingredients, except basil, in small bowl. Lightly brush outside of bread halves with 1 tablespoon dressing mixture and place, cut side up, on a clean work surface. Stir basil into dressing mixture and spoon over bottom half of bread. Arrange turkey, tomato, and cheese on top. Sprinkle lightly with salt and pepper, if desired. Top with remaining bread half and press down firmly to adhere.
Heat large, nonstick skillet over medium low heat until hot. Place sandwich in skillet, cover with a sheet of foil, top with a dinner plate and several bread plates (This will weigh the sandwiches down, to help cook evenly and absorb flavors.) Cook 8 minutes on each side, or until golden brown and cheese is beginning to melt.
Place on cutting board, and using a serrated knife, cut into four equal pieces.
https://stlcooks.com/basil-rosemary-turkey-panini/
Recipe and Photo: Pompeian