Jump to recipe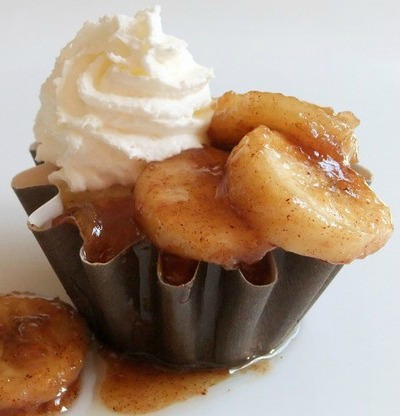 Bananas Foster Cupcakes

Ingredients
Ingredients for batter:
1 cup butter
3 eggs
2 cups all-purpose flour
1/2 teaspoon salt
2 teaspoons baking powder
1 1/2 cups sugar
1/2 teaspoon vanilla
3/4 cup unsweetened coconut milk
3/4 cup shredded coconut, lightly toasted
1/4 cup rum
Whipped cream (optional)
Ingredients for Bananas Foster Topping:
1 cup unsalted butter
1/2 cup packed brown sugar
1/4 teaspoon ground cinnamon
3 bananas, sliced
1/4 cup rum
Instructions
Directions for Batter:
Allow butter and eggs to stand at room temperature for 30 minutes. Meanwhile, line twenty-four 2-1/2-inch muffin cups with paper bake cups. In a medium bowl stir together flour, baking powder, and salt. Set aside.
Preheat oven to 350 degrees. In a large mixing bowl beat butter with an electric mixer on medium to high speed for 30 seconds. Add sugar, about 1/4 cup at a time, beating until combined. Add eggs, one at a time, beating well after each addition. Beat in vanilla. Alternately add flour mixture and coconut milk to butter mixture, beating on low speed after each addition just until combined. Fold in the 3/4 cup coconut and the rum.
Spoon batter into prepared cups, filling each about 3/4 full. Use the back of a spoon to smooth out batter in cups.
Bake about 20 minutes or until a toothpick inserted in centers comes out clean. Cool cupcakes in muffin cups on wire racks for 5 minutes. Remove cupcakes from muffin cups. Cool completely on wire racks.
Spoon Bananas Foster Topping onto cupcakes. If desired, pipe whipped cream onto cupcakes and sprinkle with additional coconut.
Directions for Bananas Foster Topping:
In a large skillet melt 1/3 cup butter over medium heat. Stir in 1/2 cup packed brown sugar, 1/4 teaspoon ground cinnamon. Add 3 bananas, sliced; toss gently to coat. Cook and stir for 1 to 2 minutes or until bananas are heated through. Meanwhile, in a small saucepan heat 1/4 cup rum over low heat just until rum almost simmers; remove from heat. If desired, use a long match to carefully ignite the rum.* Once the flame dies down, pour rum into banana mixture.
 For safety, keep face and hands away from ignited rum in saucepan. The blue flame is hard to see.
Recipe and Photo: Foodista / CC BY