Jump to recipe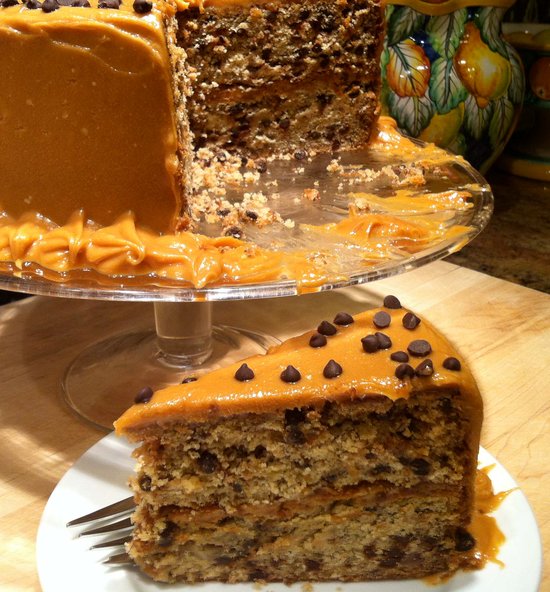 Banana Chocolate Chip Cake With Peanut Butter Frosting – Gluten Dairy and Soy Free

Ingredients
Cake
1 cup potato starch (I use Bob's Red Mill flours)
1 cup white rice
1 cup sorghum
1/2 cup tapioca starch
2 teaspoons baking soda
2 teaspoons kosher salt
1 1/2 cups organic evaporated cane sugar
8 ounces Earth balance Soy Free Spread, room temperature PLUS extra for greasing cake pans
1/2 cup organic light brown sugar, packed
3 organic large eggs
1 1/2 teaspoon vanilla extract (I use Nielsen Massey)
2 1/2 cups mashed ripe bananas (about 6 bananas)
1 cup vegan sour cream ( I use Way Fare)
1 10 oz bag gf/df/sf chocolate chips (I use Enjoy brand)
Frosting
1 3/4 cups organic creamy peanut butter
1 1/2 cups organic powdered sugar
7 oz Earth Balance Soy Free Spread, room temperature (leave out for an hour)
2 1/2 teaspoons vanilla extract
Extra Chocolate Chips for decoration, optional
Instructions
Preheat Oven Temperature to 350 degrees F
For the Cake:
Line the bottom of the round cake pans with parchment paper (I use precut ones sold at baking stores), grease cake pans, also under parchment paper. Set aside.
In a medium bowl, whisk flours, baking soda, and salt. Set aside.
Using an electric mixer or a stand mixer with a paddle attachment on medium high speed, beat sugar, Earth balance, and brown sugar until light and fluffy, about 3 minutes.
Add eggs one at a time, beating to blend after each egg, then add vanilla.
Add dry ingredients.
Mix on low speed, just to blend.
Add mashed bananas and sour cream; mix until just blended.
Fold in chocolate chips.
Divide the batter evenly among the two cake pans. Smooth tops.
Bake cakes for 35 minutes, until toothpick inserted in the center comes out clean.
Transfer to wire racks.
Let it cool in the pans for 15-30 minutes.
Invert cakes onto the wire racks; peel off parchment paper and let it cool completely, about an hour, before frosting.
For the Frosting:
Using an electric mixer, or a stand mixer with a paddle attachment, beat peanut butter, powdered sugar, Earth balance, and vanilla extract until light and fluffy, about 4 minutes.
Place 1 cake on a platter.
Spread 1 1/4 cups of frosting for the inner layer.
Place the other cake on top.
Frost the top and sides with remaining frosting.
Pipe along the bottom edge with a star tip.
Chill frosted cake for 2-3 hours to set.
Garnish with chocolate chips.
Serve chilled or room temperature. Chilled will result in a firm peanut butter frosting.
Note: For mess free decorating, put two halved sheets of parchment paper (cut apart) next to each other on the cake platter before putting the cake on it.
Slowly pull out from opposite ends of the cake when done piping.
Recipe and Photo: Foodista / CC BY