Jump to recipe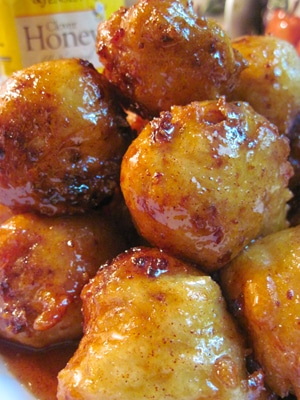 Ingredients
2 cakes of fresh yeast or 2 packs of rapid rise dry yeast
13 oz flour (about 2 cups)
2 teaspoons salt
1 tablespoon sugar
1 tablespoon vegetable oil
8 oz of steamed potato, 1 medium (cube and steam then pass thru ricer)
1 cup crispy bacon pieces, cool
10 oz or ¼ cups warm water
1 batch Honey Syrup or you can use straight honey or maple syrup
Instructions
If you are making the honey syrup, make that first and set aside to cool slightly.
Add the yeast to the bowl of a stand mixer and using a whisk, dissolve well in the warm water. Then add the oil, flour, then the potato that has been passed thru the ricer along with the sugar and salt. Using your paddle attachment, combine all of the ingredients and mix well. The batter will be loose but not watery. Lastly, toss in the bacon pieces and mix in well. Cover this with plastic wrap and then cover with a tea towel and allow it to rise in a warm place for about an hour until it has doubled in volume.
Heat your oil to 350°C and then using a small scoop (or a spoon) drop in pieces of dough and fry them until golden brown.
If you choose not to make the honey syrup and prefer to use the honey as is or even maple syrup, make sure to add this to the donuts while they are still warm and then toss them well until they are evenly coated.
Place them into a large serving bowl or platter and enjoy!
Photo: Good Food Gourmet / CC BY-SA