Jump to recipe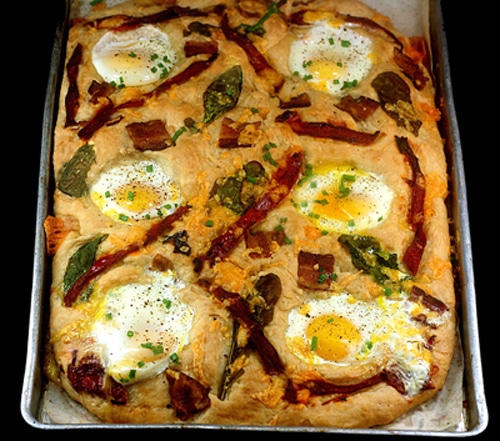 Bacon Cheddar and Eggs in Wells Focaccia

Notes
If you don't want to add greens or veggies of any sort, top with extra bacon and cheese. Herbs would be nice too.

Ingredients
1 1/3 cups warm tap water (about 110 degrees)
2 1/2 teaspoons (1 envelope) active dry yeast
3 tablespoons extra-virgin olive oil
3 1/4 cups unbleached all-purpose flour ( I ended up using 1 more cup due to humidity)
1 1/2 teaspoons sea salt
6 to 8 oz cheddar cheese, cubed
10 slices cooked bacon, chopped
Topping
2 tablespoons shredded cheddar cheese for the egg wells (a teaspoon per well)
2 slices cooked bacon, chopped
1 red bell pepper, roasted, peeled, seeded and sliced (optional, or add your favorite vegetable(s)*
arugula leaves (optional, or use your favorite greens)*
3-4 tablespoons extra-virgin olive oil
6 medium or large eggs
chopped chives
sea salt and freshly ground pepper
Instructions
In a small bowl,water sprinkle the yeast over the water. Add the 3 tablespoons olive oil and stir.
For full recipe instructions, visit Parsley, Sage, and Sweet by clicking here!
Recipe and Photo: Parsley, Sage, and Sweet / CC BY-ND