Jump to recipe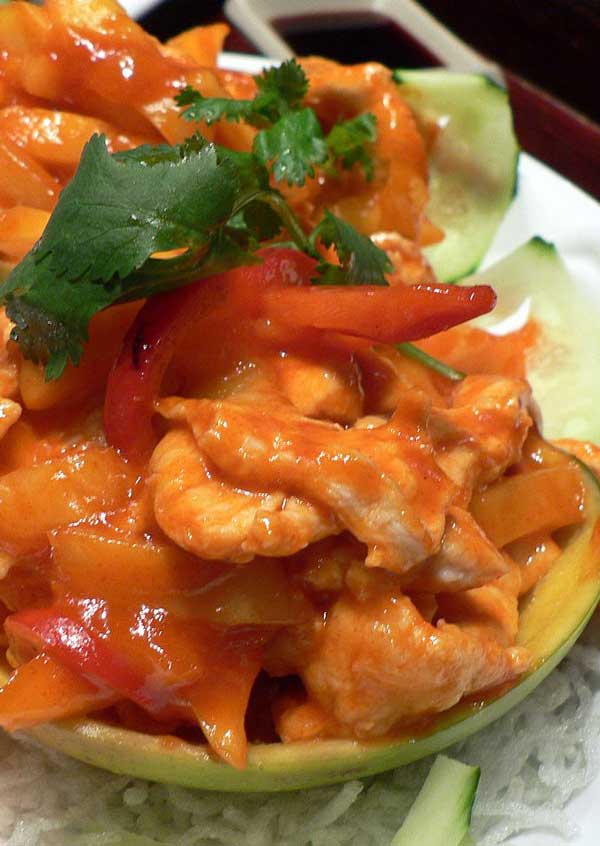 Recipe for Asian Mango Chicken – Bring Hawaii to your plate with this dish of chicken smothered in a rich mango sauce.
Ingredients
1 lb. boneless, skinless chicken tenderloins or cutlets (chopped)
1 red bell pepper, or 1 sweet red pepper
2-3 tbsp. oil for frying
1/2 c. (or more) of water
1 c. white flour
handful of cashews, left whole or lightly chopped (optional)
handful of cilantro (for garnish)
To make the mango sauce:
2 fresh ripe mangoes (soft = ripe), fruit scooped out, or substitute with 2 cups frozen or canned mango
1 red chili, de-seeded and diced (or seeds left in if you like it extra spicy), or 1 tsp. red chili sauce
1 tbsp. rice vinegar
3 tbsp. soy sauce
2 tbsp. fish sauce
juice of 1/2 lime
1 tbsp. brown sugar
1 thumb-size piece ginger, peeled and sliced
3 cloves garlic, peeled
1 tsp. dark soy sauce
1/2 cup cilantro, including stems, chopped
2 kaffir lime leaves, snipped into small pieces with scissors (throw away the stem and central "vein" of the leaf)
Instructions
To make the mango sauce, simply place all sauce ingredients in a food processor or chopper. Process well. Taste for salt, spice, and sweetness. Add more sugar if you find the sauce too sour (the sourness/sweetness will depend on the sweetness of your mangoes). If it's too sweet, add a little more vinegar, but if it's not spicy enough, add more fresh chili or chili sauce. If it's not salty enough, add more fish sauce. And, if it's too salty, add more lime juice (what you want is a balance of sweet, sour, spicy, and salty). Once that's achieved, set the sauce aside.
Place flour on a plate or clean working surface and turn chicken slices over in it until they are well coated. Place oil in a wok or frying pan over medium to high heat. When the pan is hot, add the chicken slices. Fry for 5 to 10 minutes or more on each side (depending on thickness), until chicken is cooked through.
Frying Tip: When wok/pan becomes too dry, instead of adding more oil, add a little water (1 tbsp. at a time). This will keep the chicken frying without adding extra fat/calories.
Place mango sauce in another (clean) frying pan/wok over medium heat. Add cooked chicken slices. Also add the red bell pepper or sweet pepper, stirring occasionally. Bring the mango chicken to a boil, then reduce to a simmer medium to low heat for 10 minutes, or until peppers have softened.
Serve in a serving bowls and top with cilantro. Sprinkle with cashews (optional). Serve over Thai jasmine-scented rice and few cucumbers on the side! YUMMO!
Recipe and Photo: Ordinary Recipes Made Gourmet / CC BY-SA