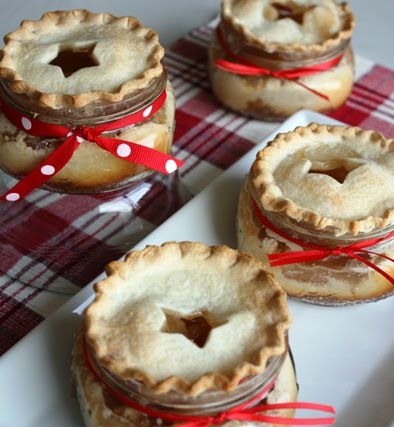 Ingredients
1 3/4 C. (1 package) Graham Crackers
1/3 C. butter, melted
24 oz. (3 pkg) Philadelphia Cream Cheese
3/4 C. sweetened condensed milk
2/3 C. white sugar
2 eggs
2 Tbsp. lemon juice
2 tsp. vanilla extract
3 cans apple pie filling
2 Pillsbury Refrigerated Pie Crusts
Instructions
Place graham crackers in ziploc bag and crush.
Pour melted butter into baggie with graham crackers and shake to mix well. Place 2 heaping tablespoons of graham cracker mixture into bottom of a half pint jar and carefully spread around.
For cheesecake layer, beat cream cheese and sweetened condensed milk until smooth. Add sugar, eggs, vanilla, and lemon juice and mix well. Place 1/3 c. of cream cheese mixture into each jar.
Fill jars to the top with apple pie filling (about 1/2 C).
Unroll pie crust. Find a drinking glass or round cookie cutter that is about 1/2? larger than your jar lid and cut out 4 circles. Re-roll remaing dough and cut out 2 more circles. Repeat with other pie crust. If desired, cut small slits or a little shape in the middle of your crust.
Place one cutout crust on each jar and pinch edges to resemble a pie crust. Finish with a light dusting of white sugar.
Place on a cookie sheet (just in case any of them leak, you don't want to clean that out of your oven!) and bake at 350 degrees for 35-40 minutes until pie crusts are browned.
Remove from oven. Tie a small ribbon around each jar, if desired, and serve.
https://stlcooks.com/apple-surprise-mini-pies/
Recipe and Photo: Gourmet Mom On the Go / CC BY