Jump to recipe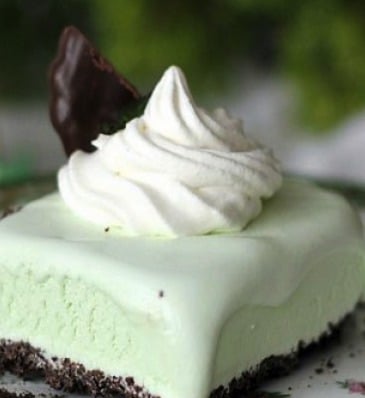 Thin Mint Dessert Squares

Notes
Want to make this a bit more grown up? Cut the Cool Whip in half, and use 4 oz. of Creme De Menthe.

Ingredients
21 Fudge mint cookies (1 1/4 cups finely chopped )
1 tablespoon Butter, melted
1 qt Vanilla Ice cream
1 container (8oz) Frozen Topping, thawed, divided
1?4 tsp peppermint extract
4-5 drops green food coloring (optional)
fresh mint leaves
Additional fudge mint cookies, cut in half (optional)
Instructions
Preheat oven to 350.
Finely chop cookies using Food Chopper; place in Small Batter Bowl. Add butter, mix well. Press crumb mixture onto bottom of Square Baker. Bake for 8 minutes. Cool completely
Place ice cream in fridge for 20 minutes to soften. Chill Classic Batter Bowl in Fridge at the same time. Place Baker with cooler crust in freezer
Scoop ice cream into chilled Batter Bowl. Stir until softened & blended; gently fold in 2 cups of whipped topping, peppermint extract & food coloring. Spread ice cream mixture evenly over cold crust. Cover with aluminum foil; freeze 6 hours or overnight.
When ready to serve, let stand at room temp 10 minutes. Attach open start tip to Easy Accent Decorator; fill with remaining whipped topping. Cut dessert into squares with knife dipped in warm water.
Garnish each square. Add cookie half & mint leaves, if desired.