Jump to recipe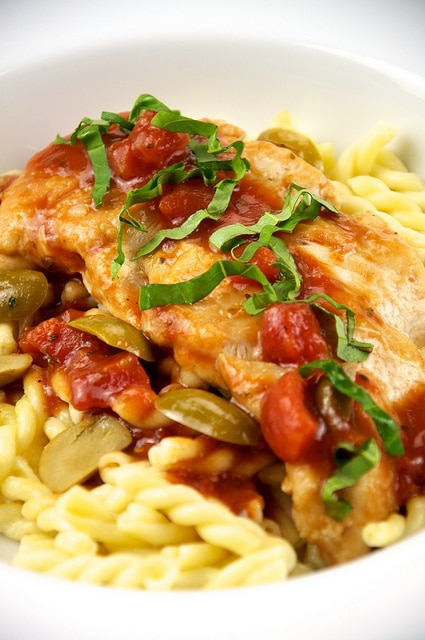 Ingredients
6 ea Chicken Breasts (Boneless, Skinless)
1 C All-Purpose Flour
2 T Kosher Salt
1 T Ground Black Pepper
4 T Olive Oil
1/2 C Dry White Wine
1 T Balsamic Vinegar
1/2 C Sicilian Olives (Sliced)
1/4 C Golden Raisins
1 T Dried Oregano
1 ea Canned Diced Tomatoes
Garnish
1/4 C Fresh Basil (Chopped)
Instructions
Brine Chicken
Place each Chicken Breast between 2 sheets of plastic wrap, flatten to 1/2" thickness.
Combine Flour, Salt and Pepper in a zip-top bag. Add Chicken Breasts one at a time, shake in mixture to cover. Remove excess Flour. Set aside.
Heat Oil in a large skillet over medium heat until the Oil begins to shimmer. Cook Chicken in a single layer on each side until golden brown, about 3 minutes per side.
Add Wine and Vinegar, scraping all the brown bits from the bottom of the pan. Cook for 2 minutes.
Add Olives, Raisins, Oregano and Tomatoes. Bring to a boil, reduce to a simmer and cook for 8 minutes or until Chicken is no longer pink in the center.
Garnish and serve with sauce over pasta of choice.
Recipe: The Culinary Geek
Photo: TheCulinaryGeek on flickr / CC BY