Jump to recipe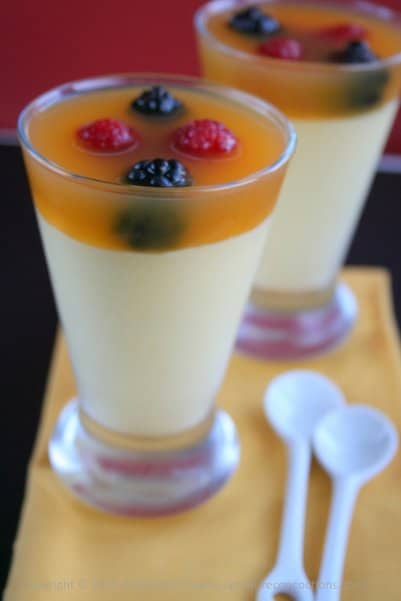 Mango Mousse

Ingredients
Mango Mousse
2 cups of mango slices (about 4 mangoes)
¼ cup simple syrup
¼ cup heavy cream (for mango purée)
scant ¼ cup Triple Sec (or any other Orange liqueur)
½ tbsp (½ pkt) unflavored gelatin powder (Knox)
½ cup heavy cream (for whipping and folding into the mousse)
Mango Jello Topping (optional)
½ cup clear mango juice (such as Frooti or Mazaa)
½ tbsp (½ pkt) unflavored gelatin powder (Knox)
you choice of berries, about 4-6 per dessert cup
Alternatively, use mango flavored gelatin
Instructions
Mango Mousse
Purée the mango slices, simple syrup and heavy cream together in a food processor. Strain and keep aside.
Sprinkle gelatin over the orange liqueur in a heat proof glass bowl and let it soften for about 10 mins. In the meantime, take about ½ cup water in a small saucepan and bring it to a gentle simmer. Place the bowl on top of the simmering water and stir continuously till the gelatin dissolves completely. Let it cool down and then mix it well with the mango purée.
Whip the ½ cup of heavy cream till it forms soft peaks (kinda like meringue). Add it to the mango-gelatin mixture and gently fold the whipped cream.
Pour into dessert cups and set it in the fridge for 3-4 hours.
Mango Jello Topping (optional)
Sprinkle the gelatin on to the mango juice in in a heat-proof bowl and often for ten minutes. Place it over a small saucepan with simmering water. and stir continuously so that the gelatin dissolves completely. As soon as the gelatin melts, the solution will become clear. Let it cool down to room temperature.
Remove the mousse from the fridge and top it with the berries. Pour the mango jello over the mousse and berries and return to referigerator for a couple more hours. Serve chilled.
Recipe and Photo: Signature Concoctions / CC BY