Jump to recipe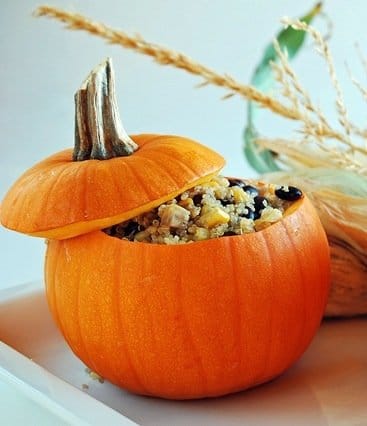 Jack-o-Lantern Rice

Ingredients
1 medium pumpkin (large enough to hold 6 cups mixture)
1 pound sausage
3 cups cooked rice
1 tart red cooking apple, cored and chopped
½ cup chopped onion
½ cup chopped celery
½ cup raisins
1 tablespoon packed brown sugar
½ teaspoon salt
¼ teaspoon ground allspice
¼ teaspoon ground cinnamon
? teaspoon ground black pepper
Instructions
Cut off top of pumpkin; remove seeds and fibers. For a jack-o-lantern effect, paint a face on pumpkin with a permanent marker or acrylic paint. Set aside.
Cook sausage in skillet, stirring to crumble. Drain well.
Combine sausage, rice, apple, onion, celery, raisins, brown sugar, salt, allspice, cinnamon and pepper; spoon into pumpkin shell.
Place on baking sheet. Bake at 350°F for 1¼ to 1½ hours, or until pulp inside pumpkin is tender.
Spoon rice mixture from pumpkin. Scoop out cooked pumpkin; season with butter, salt and pepper, if desired. Serve with rice mixture.
Recipe and Photo: recipes.wikia.com / CC BY-SA