Jump to recipe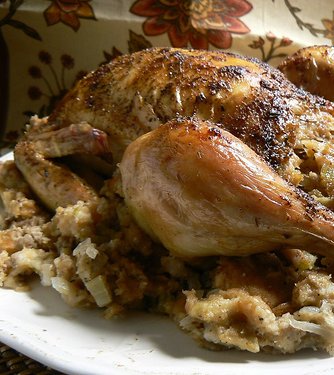 Herb Roasted Chicken and Stuffing

Ingredients
1 roasting chicken, washed and patted dry (about 3 pounds/ 1 1/2 kilos)
2-3 cloves garlic
1 larger onion
2-3 ribs celery
1/2 pound (200 grams) ground pork
3 cups croutons
about 2 cups chicken broth
2 tablespoons butter
thyme, rubbed sage, garlic powder and oregano to taste
salt and pepper to taste
Instructions
Preheat oven to 350ºF/175ºC.
Melt butter in a large skillet and sautee garlic until just golden.
Add onion and celery and sautee until translucent, then add in pork and season with salt, pepper and herbs.
Brown pork and vegetables, stirring constantly, breaking the meat into small bits.
Drain off excess fat.
Add broth and croutons and stir to combine.
Adjust seasonings and herbs.
Fill chicken cavity with stuffing (you will probably have some left over…this can be placed in an oven proof dish with a lid and baked along with the chicken).
Place chicken in a baking dish/roaster with a lid.
Rub with butter or oil, and season with salt, pepper, herbs and garlic powder.
Cover chicken and bake 2 1/2 to 3 hours, or until done (legs will pull away easily), basting occasionally.